Archive series 8th : "Sea of Time '98" by Tatsuo Miyajima
"Benesse Art Site Naoshima - Archive series" takes a look back through the records of Benesse Art Site Naoshima, the art project founded in the 1980s. In this 8th installment, we will be introducing Tatsuo Miyajima's Art House Project 'Kadoya' "Sea of Time '98" which was unveiled in 1998 and saw its 20th anniversary in 2018.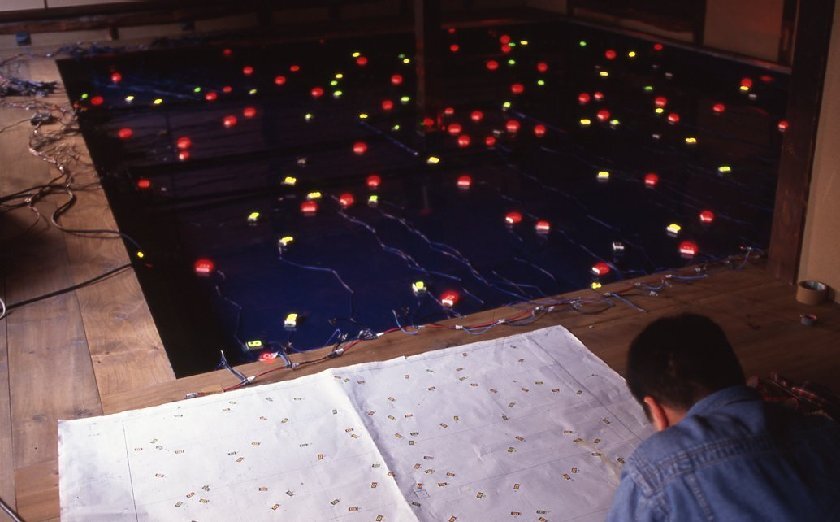 'Kadoya' can be found in Naoshima's Honmura district and was unveiled as the first installment in the Art House Project. The house was constructed roughly 200 years ago, and was restored to its original appearance with a stucco finish, smoked cedar boards, and traditional roof tiles; thus turning the space itself into a work of art. There are 3 Miyajima pieces displayed in 'Kadoya' , and the people of Naoshima helped build 1 of them, "Sea of Time '98".

This piece uses 125 LED digital counters and are randomly placed in a pool set inside the dimly lit Japanese house. Each counter displays the number 1 to 9 in order, however Miyajima entrusted the speed of the counters to the island residents. A 'Time Setting Meeting' was held in February 1998 in order to decide on the speeds. 125 Naoshima residents, ranging from 5 to 95 years old, participated and each set a speed to their liking.

The counters were placed in accordance with the layout designed beforehand by Miyajima, and in March 1998 the work was unveiled. Later, voices from the island residents who participated could be heard, "It feels like 'Kadoya' gives me energy", "For me, as long as 'Kadoya' is still alive then it gives me hope that I too can keep going". It can be said that, for the activities of the Benesse Art Site Naoshima, 'Kadoya' was a piece that allowed for the intervention of contemporary art in the lives of the local residents and the area.

2018 is the 20th anniversary since its unveiling, and we have planned and put together 'Time Setting 2018 -Inheritance-' in which we have gathered the 125 individuals who participated in the 1998 time setting to bring 'The Speed of Time' into the piece. After investigating the whereabouts of every person who participated in 1998, we informed them, or their relatives if the person was deceased, that a 'Time Setting Meeting' was being planned, the first one in 20 years.

The meeting saw a wide variety of participants, including people who participated in the original meeting 20 years ago, children, grandchildren and other close individuals to whom the opportunity was passed down to, those selected in public appeals, younger people who moved to Naoshima, and more. One participant, Horiguchi Yoko, spoke how "Being able to participate makes me proud. Even if I were to pass away, I think I would like to let my children, grandchildren, and great-grandchildren know that a part of me still lives on in that building."

During this Time Setting Meeting, voices could be heard saying "At the next Time Setting..." Perhaps the idea of this piece continuing to exist 20 years later can be found inside each person's heart there.

Through the 'Time Setting 2018 -Inheritance-', 'Kadoya' continues to exist in one location, and while it tries to capture the idea of 'time' into itself, it continues to exist within the community.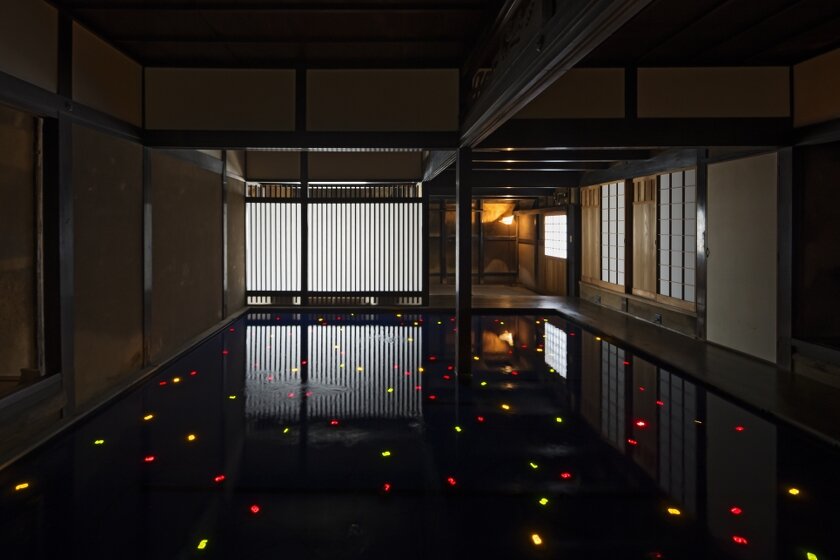 'Time Setting 2018 -Inheritance-' has also been introduced in the September, 2019 issue of Benesse Art Site Naoshima Periodical Magazine, pages 2 - 15.