Les Archives du Cœur
"Les Archives du Cœur", by Christian Boltanski, permanently houses recordings of the heartbeats of people throughout the world. Christian Boltanski has been recording these heartbeats since 2008.
Les Archives du Cœur is a testament to the recordees' existence.
The recordings may be listened to by visitors. It is also possible to record your own heart beat here.
Hours & Admission
Hours:

March 1 - Septem

ber 30


10:00 a.m.-5:00 p.m.
(Last admittance: 4:30 p.m.)


Octo

ber 1 - last day of February
10:00 a.m.-4:00 p.m.
(Last admittance: 3:30 p.m.)
Closed:

Tuesdays (March 1 - November 30)
Tuesdays to Thursdays (December 1 - last day of February)
*Open on national holidays but closed the next day.
*Open on Tuesdays when Monday falls on a national holiday but closed on the next day.
Open Days Calendar
Admission:

Admission Fee:JPY520
*free for children 15 and under
Recording Fee: JPY1,570
*For recording and the CD-booklet. You can bring a CD-booklet of your heartbeats home.

*If visiting the museum in a group (9 or more people), Please go to Group Visits.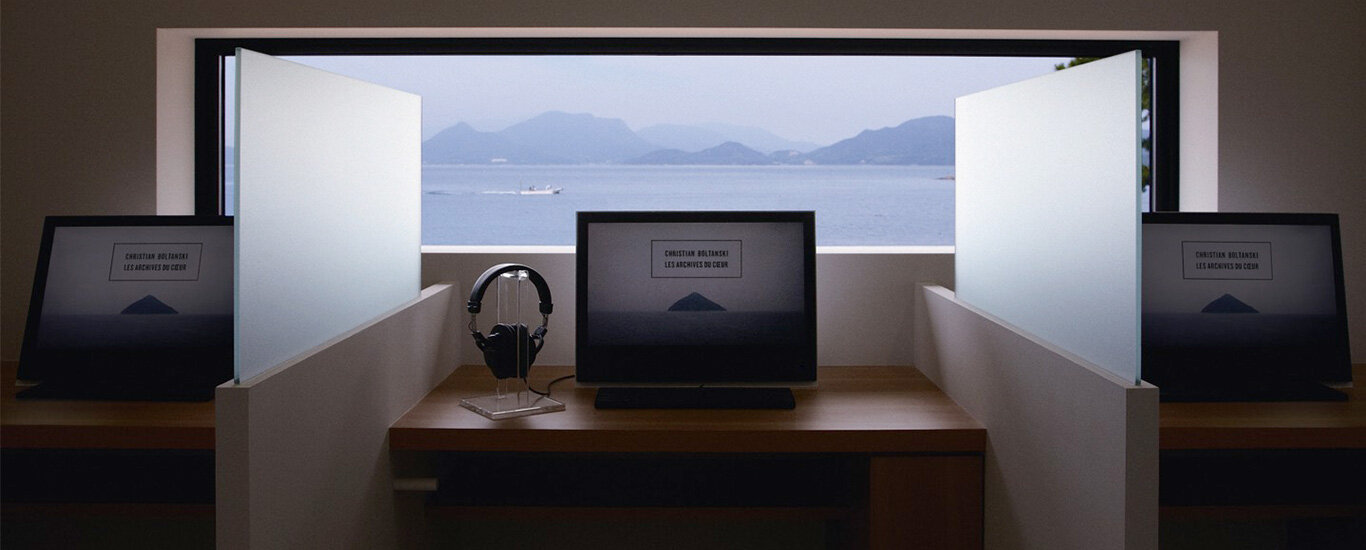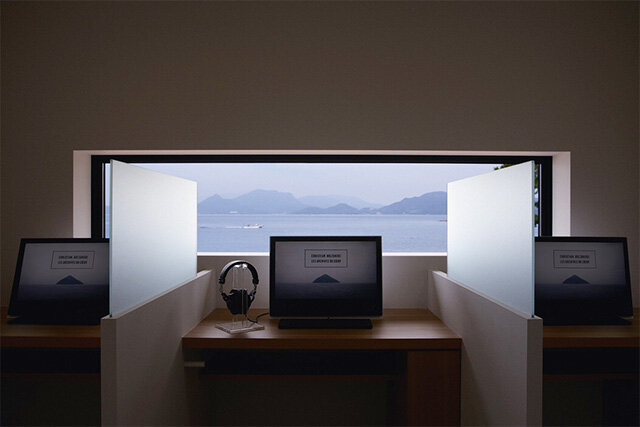 Artist
Artist
Christian Boltanski
"Les Archives du Cœur" is divided into 3 rooms: the Heart Room, which houses an installation; a recording room; and, a listening room.
In the recording room visitors may record their own heartbeats together with a personal message for archival as part of the work. In the listening room visitors can search through and listen to recordings using a computer database.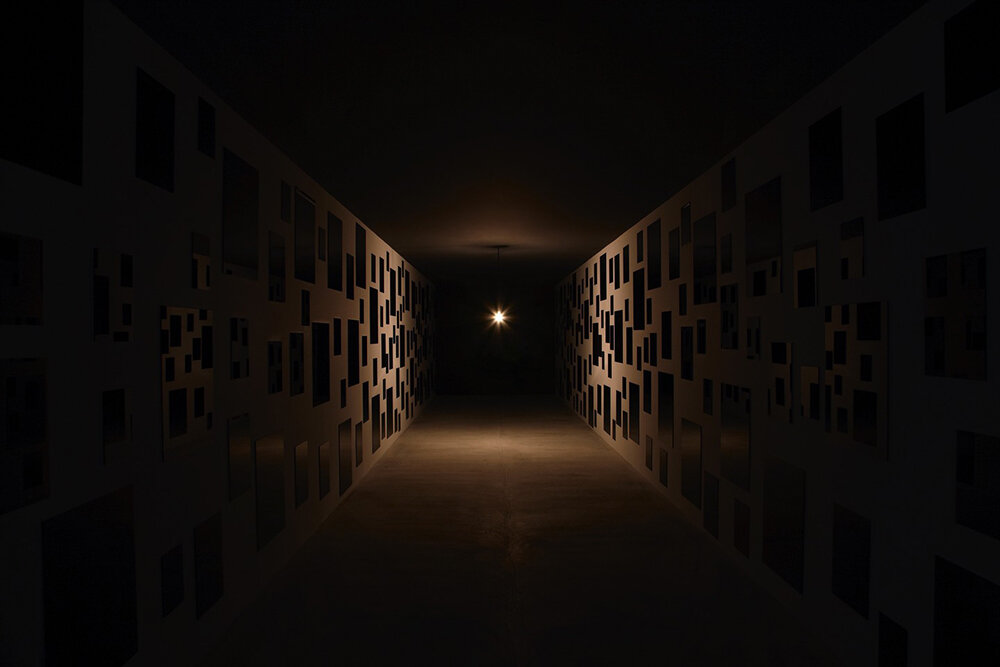 Les Archives du Coeur,

2010
Other Facilities
Shop
"Les Archives du Cœur" Shop
The "Les Archives du Cœur" sells books and other goods related to Boltanski. Visitors are also able to purchase a recording of their own heartbeat as an original CD booklet.
Hours:

March 1 - Septem

ber 30




10:00 a.m.-5:00 p.m.




October 1 - last day of February




10:00 a.m.-4:00 p.m.
Closed:

The shop is closed when the museum is closed.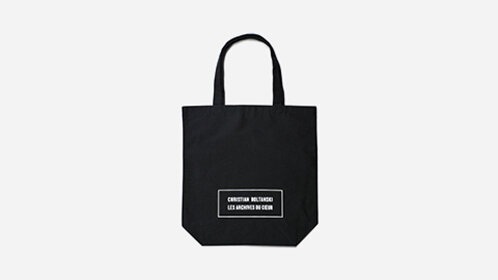 Features an original logo. The simple and chic design is based on a work of art.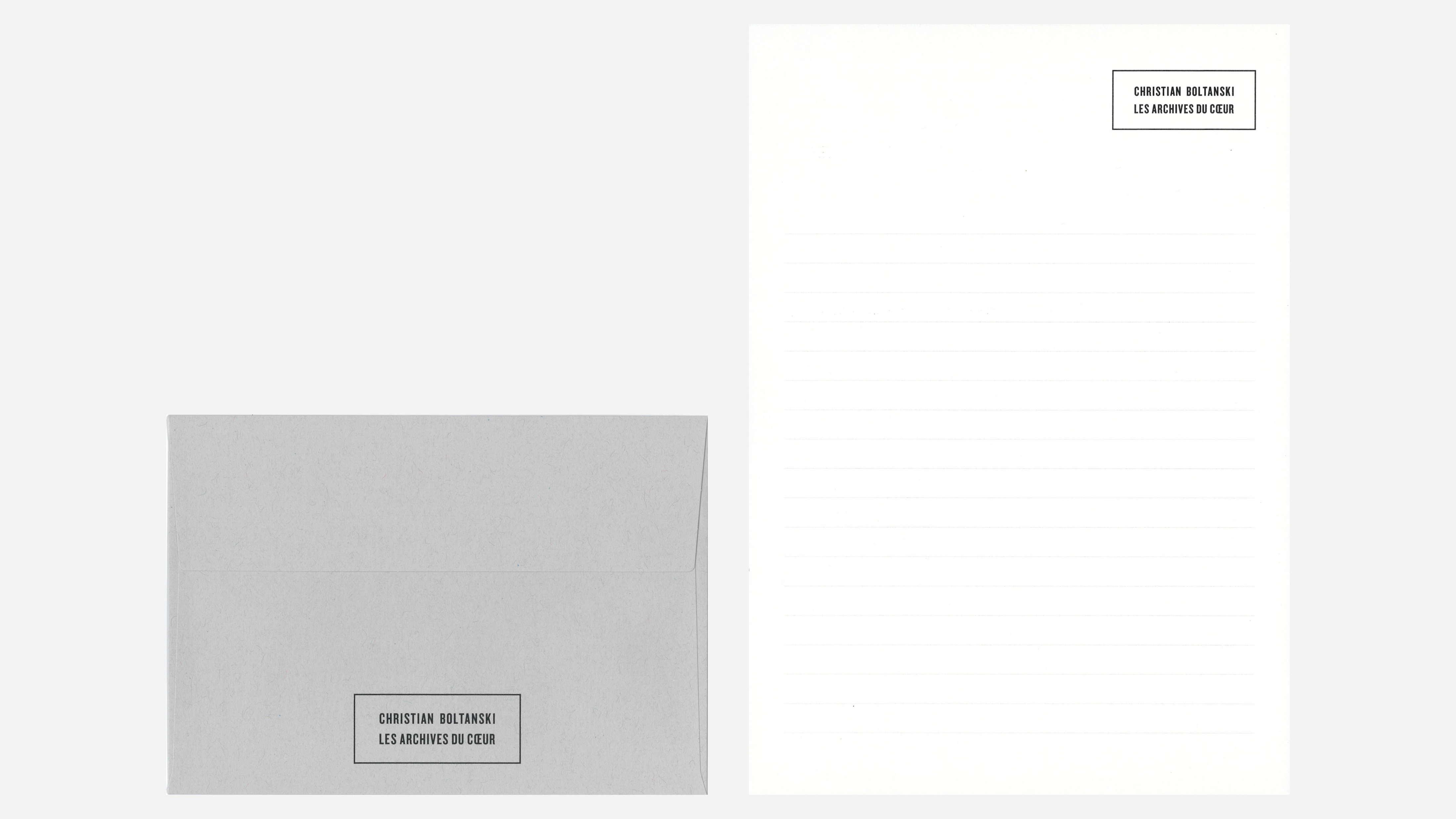 This letter set includes letter paper and envelopes.
It implies the message of our desire for you to share your experience at the museum with others.
Art Program
Heartbeat Registration Program
You can be part of Les Archives du Coeur by recording your own heartbeat in the Recording Room. This can serve as a precious momento of your own existence. A CD with your recorded heartbeat and a booklet will be packed in a special box for you to take home. Commemorate your visit to Teshima Island by participating in this work of art. (Registration fee: ¥1,570)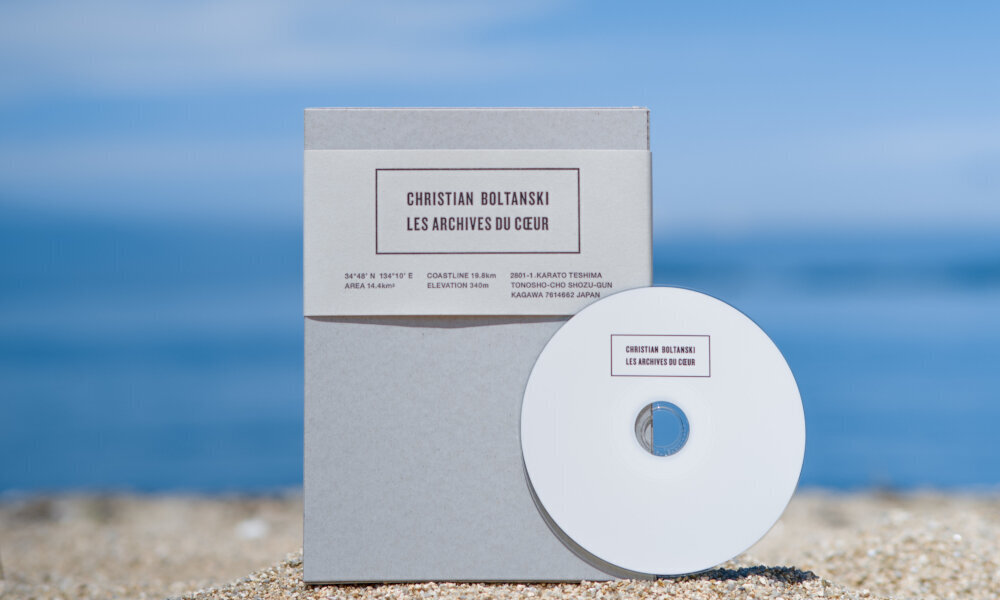 Group Visits
Group Visits

9 people and more
Group visits to the museum must be booked in advance. This enables us to schedule groups throughout the day to avoid overcrowding. A group of up to 15 is admitted in every 30 minutes.
Information
Facilities and Services
For visitors with babies or small children
・Baby carriages may be taken into the museum.
・There is no nursing room nor a changing table in the museum.
For handicapped visitors
(1)Accessibility
Due to characteristics of facility, some places are not accessible for visitors with disabilities and special needs.
We ask for your understanding.
We will support you as much as possible when you visit us, so please contact and discuss directly with our facilities.

(2)About lending wheelchairs, etc.
・Wheelchairs: Not available.
・Writing tools: Available.
・Multi-purpose toilets: Not available.
・You may enter our facilities with a service dog, a seeing eye dog, and/or a hearing assistance dog.
About admission
・No discounts are offered for groups and holders of Disability Certificates (Physical Disability Certificates, Rehabilitation Certificates, or Mental Disability Certificates) are not granted free entry.
・We accept the following credit cards: AMEX, Diners, JCB, Master Card, NICOS, VISA.
Requests to visitors
When visiting the museum
・There is no parking. Please visit by bicycle, on foot, or use public transport.
・Please do not bring large objects (suitcases, umbrellas, tripods, etc.) into the museum. These should be placed in coin lockers or left at the Ticket Center.
・Pets may not be taken into the museum.
・Visitors may not enter the museum wearing bathing suits.
・Smoking is prohibited on the museum premises.
・The use of cell phones is prohibited on the museum premises.
・Other than in the cafe, visitors may not eat (including candy, gum, boxed lunches, etc.) or drink on the museum premises.

・

Visitors may be refused entry if they appear intoxicated or otherwise pose a disturbance to other visitors.

・Please take any garbage away with you.
When viewing the artworks
・Please do not touch the artworks themselves.
・Please do not take photographs, videos, or make sketches in the museum. Visitors are also requested not to use fountain pens, ink, etc.
About using drone
・It's strictly prohibited to operate Unmanned Aircrafts (UAs) /Drone in Benesse Art Site Naoshima premises without our prior permission due to safety assurance reasons for the people, architecture and artworks.
Contact
2801-1 karato, Teshima, Tonosho-cho, Shozu-gun, Kagawa 7614662 Japan
Tel. +81-(0)879-68-3555 (Teshima Art Museum)
Fax. +81-(0)879-68-2182
Inquiry form