Teshima Yokoo House
The "Teshima Yokoo House", a collaboration between artist Tadanori Yokoo and architect Yuko Nagayama, was created by altering and renovating an old private house located in a hamlet in the Ieura District, facing the harbor that forms the entrance to Teshima Island. Making full use of the building's existing layout, the exhibition areas are divided into a "Main House," a "Warehouse," and an "Outhouse," displaying 11 two-dimensional works. Other features-a stone garden with a pond, and a cylindrical tower-are devoted to installations, so that the art spaces seem to expand symbolically to cover the entire site, making it a philosophical zone that simultaneously calls to mind thoughts of both life and death. Thanks to the building's use of tinted glass to control light and color, the sunshine, breezes, and natural hues of the island, as well as the artworks themselves, assume a range of different appearances, turning visitors' spatial experience into a series of interconnected collages.
Hours & Admission
Hours:

March 1 - Septem

ber 30


10:00 a.m.-5:00 p.m.
(Last admittance: 4:30 p.m.)
October 1 - last day of February
10:00 a.m.-4:00 p.m.
(Last admittance: 3:30 p.m.)
Closed:

Tuesdays (March 1 - November 30)
Tuesdays to Thursdays (December 1 - last day of February)
*Open on national holidays but closed the next day.
*Open on Tuesdays when Monday falls on a national holiday but closed on the next day.
Open Days Calendar
Admission:

JPY520
*free for children 15 and under

*If visiting the museum in a group (9 or more people), Please go to Group Visits.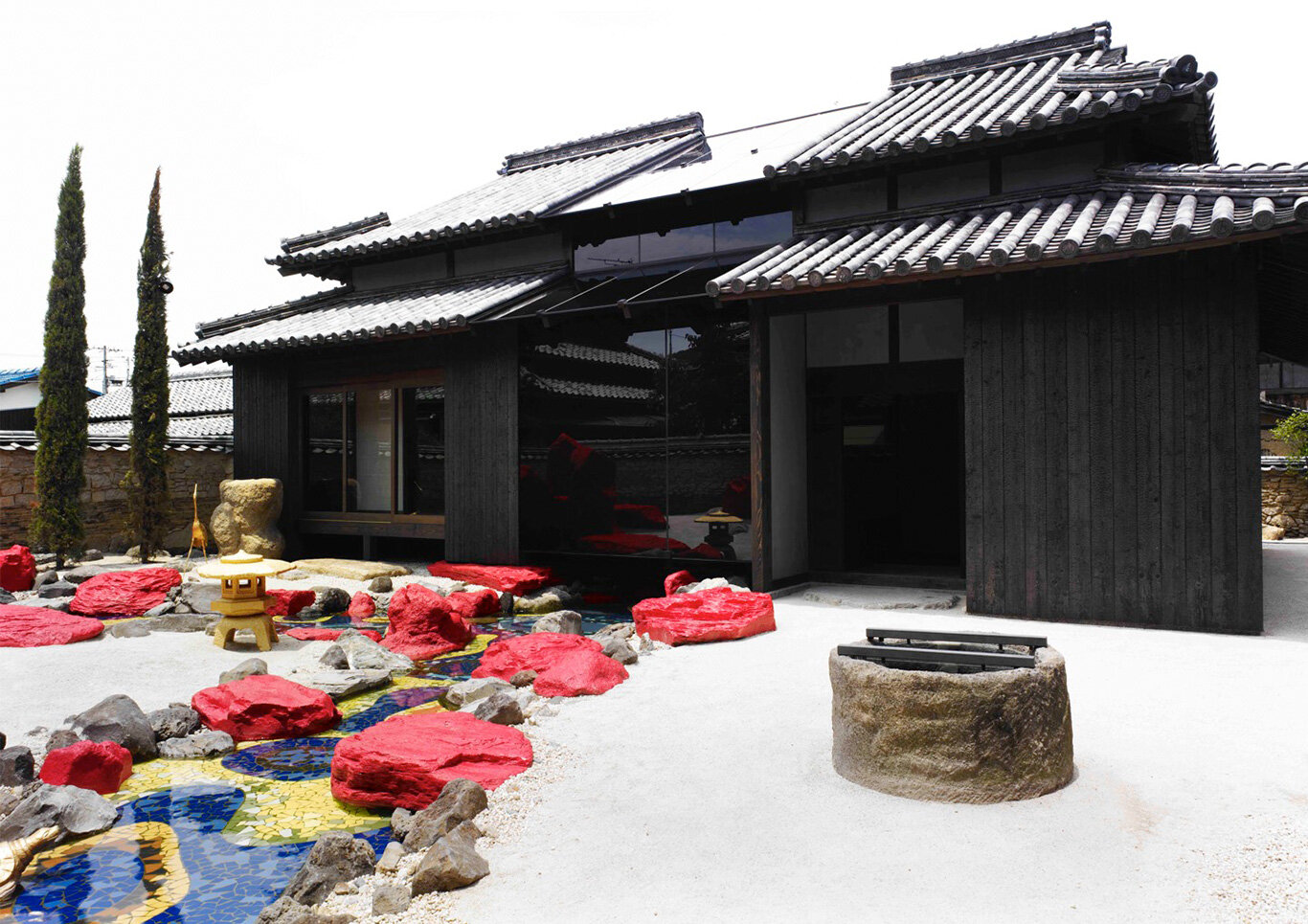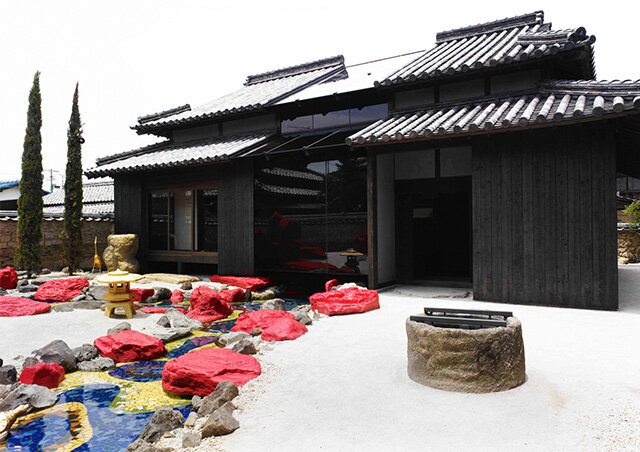 Artist
Ever since his thirties and up until today, Tadanori Yokoo has been creating works based on the theme of "life and death" by confronting with death. At Teshima Yokoo House, visitors can fully experience this concept not only through the works on canvas that explore the theme in depth and were selected specially for the museum, but also through the entire structure and outside space that also represents the idea of the museum.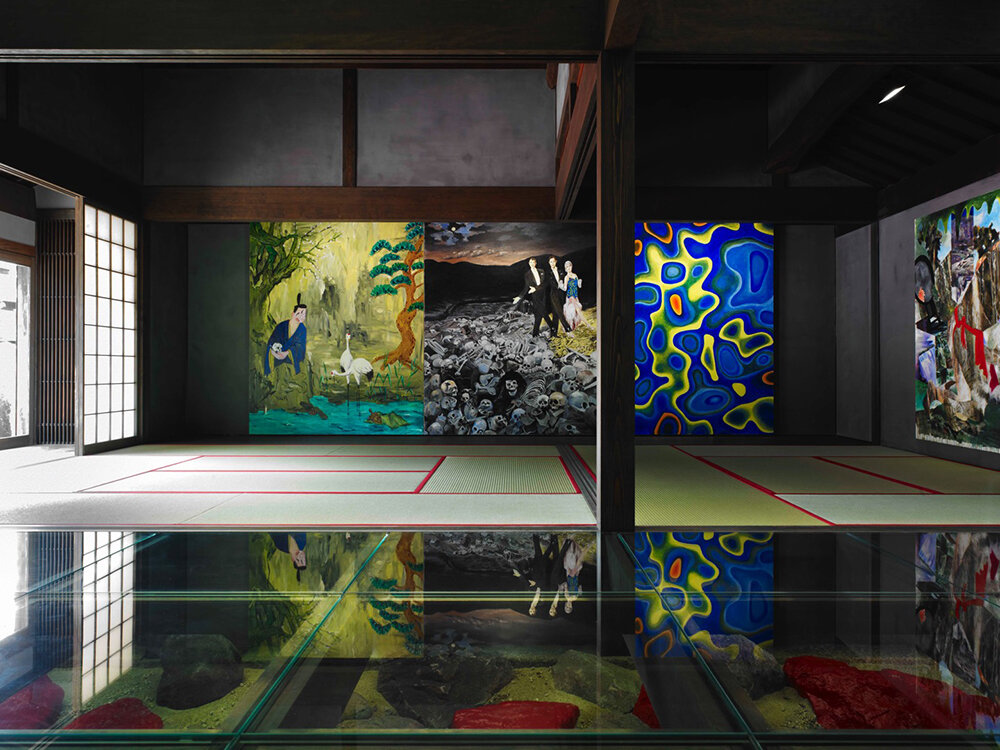 Warehouse
Look at the Thing in Heaven,

1996
Isle of the Dead,

2012
Aurora,

1983
Main House
Nostalgic Springs,

2004-2008
Isle of the Dead – Inspired by Arnold Böcklin II,

2012
The Primitive Universe,

2000
Universal Frantic Love,

1991
Dream on the Retina II,

1994
Purple Quickening,

1994
Outhouse
The Funeral Home,

2012
Melancholia,

2012
Installation of garden
Installation of toilet
Installation of waterfall
Architect
In her design, Yuko Nagayama integrated a pictorial element to the three-dimensional architecture with the use of red glass, in reference to the museum's overriding theme: Life and Death. Red is a color that is used predominantly in Yokoo's work, and it is also the color of blood, which symbolizes life. The distant scenery seen through the red glass appears in monochrome tones as if marking a border between the normal and the extraordinary, or between life and death.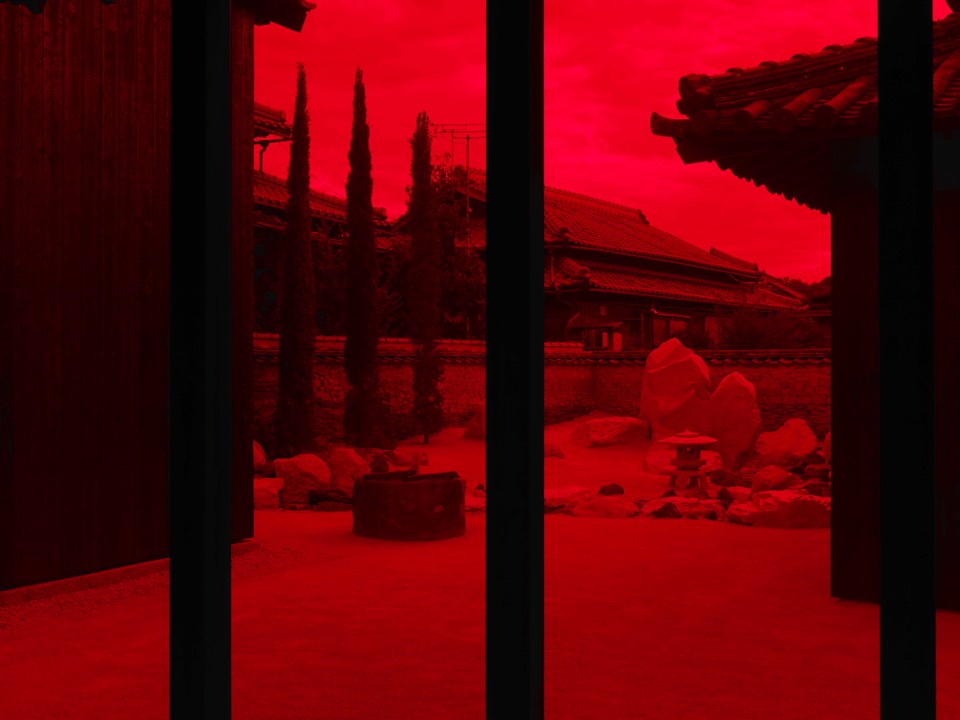 Other Facilities
Shop
Teshima Yokoo House Shop
Teshima Yokoo House sells books related to the Art facility. The official guidebook offers commentary on the artwork and architecture of Teshima Yokoo House.
Hours:

March 1 - Septem

ber 30




10:00 a.m.-5:00 p.m.




October 1 - last day of February




10:00 a.m.-4:00 p.m.



Closed:

The shop is closed when the museum is closed.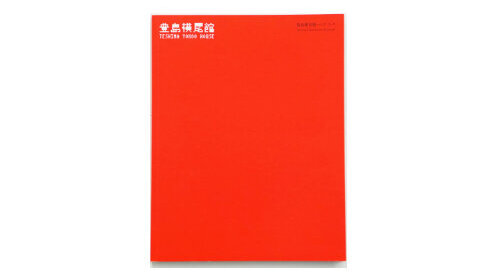 In addition to commentaries by the artist Tadanori Yokoo and the architect
Yuko Nagayama, it also contains a critique by the art critic Akira Asada.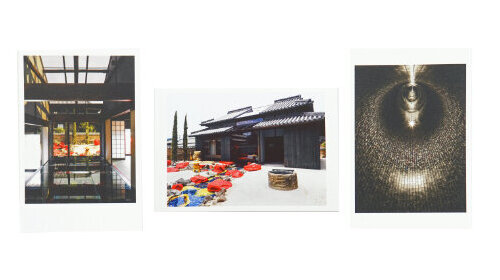 A postcard that captures the interior, exterior, and garden of Teshima Yokoo House. There are 3 types in total.
Group Visits
Group Visits

9 people and more
Group visits to the museum must be booked in advance. This enables us to schedule groups throughout the day to avoid overcrowding. A group of up to 15 is admitted in every 30 minutes.
Information
Facilities and Services
For visitors with babies or small children
・Because there are steps in the museum and the passageways are very narrow, the use of baby strollers is not permitted. Please deposit them at the reception desk.
・There is no nursing room nor a changing table in the museum.
For handicapped visitors
(1)Accessibility
Due to characteristics of facility, some places are not accessible for visitors with disabilities and special needs.
We ask for your understanding.
We will support you as much as possible when you visit us, so please contact and discuss directly with our facilities.

(2)About lending wheelchairs, etc.
・Wheelchairs: Not available.
・Writing tools: Available.
・Multi-purpose toilets: Not available.
・You may enter our facilities with a service dog, a seeing eye dog, and/or a hearing assistance dog.
About admission
・No discounts are offered for groups and holders of Disability Certificates (Physical Disability Certificates, Rehabilitation Certificates, or Mental Disability Certificates) are not granted free entry.
・We accept the following credit cards: AMEX, Diners, JCB, Master Card, NICOS, VISA.
Requests to visitors
When visiting the museum
・Some of the spaces in the museum require you to remove your shoes. To make your visit more relaxing, we recommend for your visit that you wear shoes that are easy to take off and put on again.
・Parking spaces are limited. Please walk or use public transport if at all possible.
・Please do not bring large objects (suitcases, umbrellas, tripods, etc.) into the museum. These should be left at the Ticket Center.
・Pets may not be taken into the museum.
・Visitors may not enter the museum wearing bathing suits.
・Smoking is prohibited on the museum premises.
・Other than in the cafe, visitors may not eat (including candy, gum, boxed lunches, etc.) or drink on the museum premises.

・

Visitors may be refused entry if they appear intoxicated or otherwise pose a disturbance to other visitors.

・Please take any garbage away with you.
When viewing the artworks
・Please do not touch the artworks themselves.
・Please do not take photographs, videos, or make sketches in the museum. Visitors are also requested not to use fountain pens, ink, etc.
About using drone
・It's strictly prohibited to operate Unmanned Aircrafts (UAs) /Drone in Benesse Art Site Naoshima premises without our prior permission due to safety assurance reasons for the people, architecture and artworks.
For visitors intending to visit the museum during the most crowded period (March to November)
In order to ensure a comfortable viewing experience for everyone, there may be times when we restrict the number of visitors entering the museum.
Contact
2359 Ieura, Teshima, Tonosho-cho, Shozu-gun, Kagawa 7614661 Japan
Tel. +81-(0)879-68-3555 (Teshima Art Museum)
Fax. +81-(0)879-68-2182
Inquiry form