Archive series 6th : "Appropriate Proportion" by Hiroshi Sugimoto
"Benesse Art Site Naoshima - Archive series" takes a look back through the records of Benesse Art Site Naoshima, the art project founded in the 1980s. In this 6th installment, we will be introducing a part of the production process regarding the house project "Go'o Shrine" "Appropriate Proportion" (2002).
"Go'o Shrine" was opened to the public in 2002 as one of the house projects. Along with the remodeling of the same shrine where the local deity of Honmura district in Naoshima is worshiped, the main shrine, the front shrine, and the front shrine's underground rock chamber were designed by the artist Hiroshi Sugimoto. The main shrine and rock chamber are joined by a glass staircase and the underground and overground form a single world together. The main shrine and front shrine are based on the artist's own aesthetic sense while being inspired by the style of ancient Shinto architecture such as Ise Grand Shrine.

Sugimoto referred to how ancient Japanese people revered big trees, waterfalls, giant stones, and so on as sacred places and the notion that gods descend to places that have been swept and put in order by humans and came up with the idea of placing a giant stone at Go'o Shrine as well. The large stone was found at Mount Mannari in Okayama, which is one of the mines in Setouchi, but the process of placing a stone weighing 24 tons in the compound of a shrine at the peak of a small mountain was exceedingly difficult. Iron plates were laid out onto the mountain path used to transport the large stone for protection and heavy equipment carrying the stone moved backward on the narrow path to the shrine. After safely reaching the grounds of the shrine, the stone was lifted with a crane and, according to the instructions of the artists, placed after minute adjustments.

Go'o Shrine has a side as a piece of art by Sugimoto. Sugimoto thinks that gods must dwell "in a space that has been pruned quite well with no gaps"* and has given it the title "Appropriate Proportion (meaning an appropriate shape)". Go'o Shrine is made out of simple materials such as plain wood, stone, and glass, and along with the design of its surroundings, creates an effect of minimalism. The process of reconstructing Go'o Shrine can likely be said to literally have been an attempt to create a place with an "appropriate shape" for a god to live in.

*From the January 2003 issue of Naoshima Communication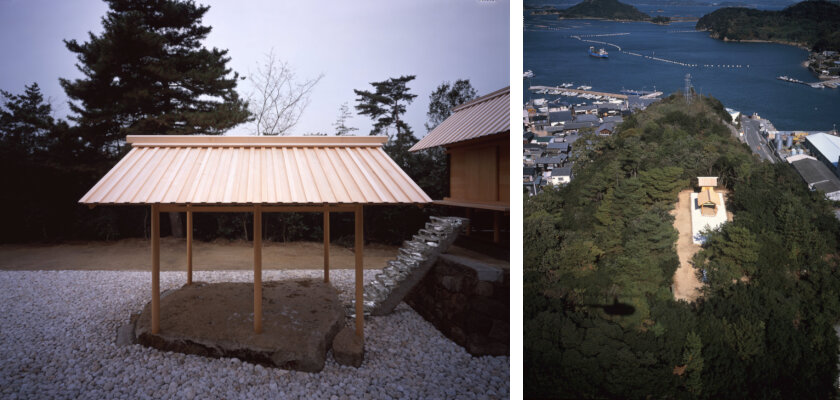 reference :HIROSHI SUGIMOTO
https://www.sugimotohiroshi.com/appropreate-proportionj