Archive series 1st : "Pumpkin" by Yayoi Kusama
"Benesse Art Site Naoshima - Archive series" takes a look back through the records of Benesse Art Site Naoshima, the art project founded in the 1980s. In this 1st installment, we will be introducing Pumpkin (1994) by Yayoi Kusama.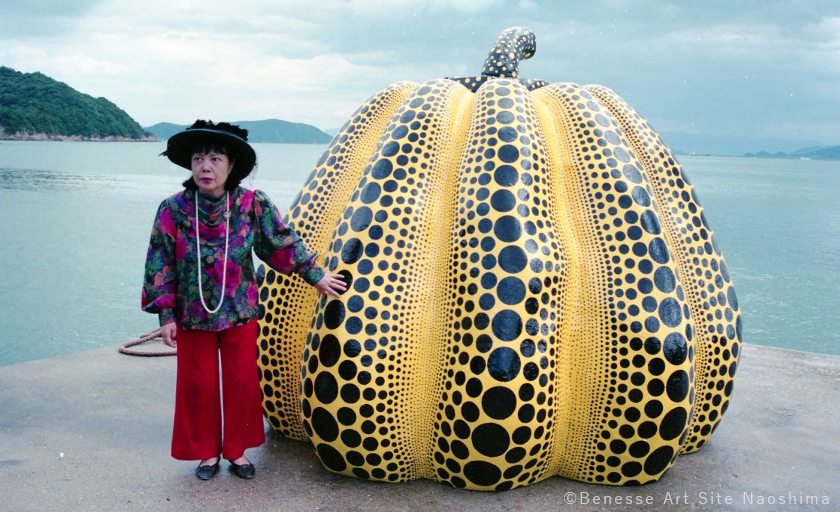 Pumpkin was first shown at the 1994 Naoshima exhibition, Open Air '94 "Out of Bounds" --Contemporary Art in the Seascape--. The above photo is a snapshot of the exhibition's opening ceremony, taken in September 1994. Kusama is shown standing next to her sculpture Pumpkin, which had just been shown for the first time.

What separates the Pumpkin at Naoshima from the other Pumpkins Kusama had created in the past is the way it was designed with the location in mind. Placed on an old pier jutting out into the sea, surrounded by the blue of the ocean and the green of the trees, this Pumpkin stands out with its vibrant yellow color. It was one of the largest Pumpkin sculptures Kusama had made up to that point, and was designed with the knowledge that it would be the first to be displayed outside.

Even now, 25 years after it was first shown to the public, this yellow Pumpkin with black polka dots still rivals the beauty of the natural Setouchi landscape with its unique, imposing presence, and continues to show visitors a sight that can only be seen here.

For more information, see pages 16 - 18 of the April 2019 issue of the Benesse Art Site Naoshima Magazine.