New work of Inujima "Art House Project" C-Art House unveiled to island residents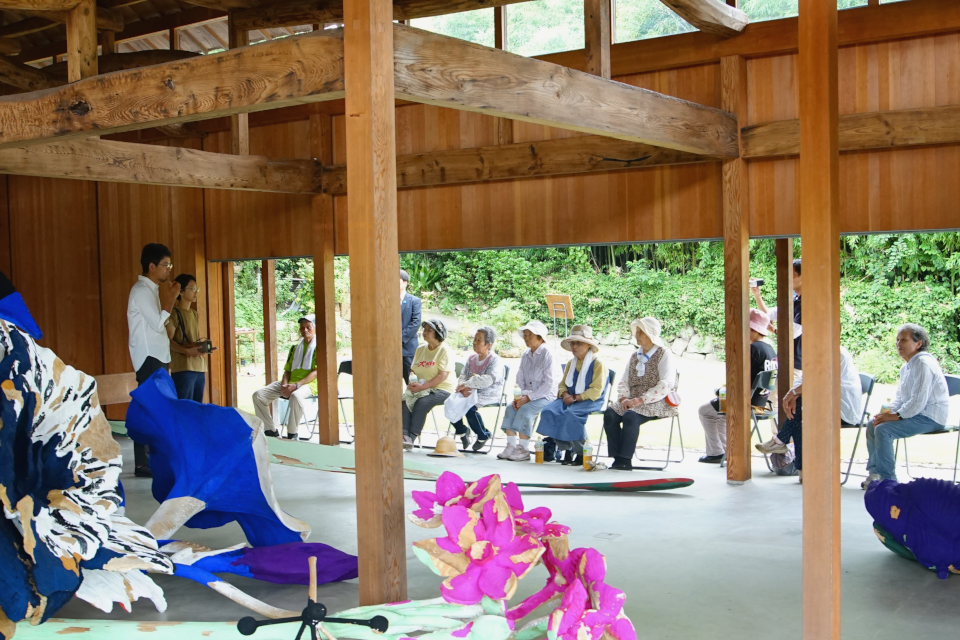 The new work of Inujima "Art House Project" C-Art House, "Untitled (Flowers at C-Art House)," was formally unveiled by its artist Masanori Handa to the residents of Inujima on Thursday, July 18th, 2019. The island residents passionately explored this new work while learning more about it from Mr. Handa by asking questions such as "What kinds of flowers was this work inspired by?" and "Was the work created from a single tree?" Mr. Handa described the process of creating his wooden sculpture on Inujima as follows.

"I had wanted to create a work that appears as if it had always already existed on Inujima. Unlike artificial materials, a wooden sculpture is a living, natural material. I do not think the work is finished the moment it is placed here; instead, it is important for the wooden sculpture to undergo an organic process of breathing in the air of Inujima, exposing itself to wear and tear from the elements, and becoming acquainted with its surrounding environment."

At the unveiling session, a hand-planting ceremony was held by the artist and island residents in the garden in front of the exhibition space. Mr. Handa pointed out that this hand-planting ceremony is indispensable to the establishment of the work.

"When I first came to Inujima, the fields and flowering plants growing in various locations on the island left a deep impression on me. I wanted to create a dynamic work that is able to bring together not just C-Art House but also the surrounding trees and plants, the expansive landscape of Inujima, and the residents of this island. The hand-planting ceremony that everyone was involved in today signifies the completion of the work and the start of a new beginning."
"Untitled (Flowers at C-Art House)" has been open to the general public since Friday, July 19th, 2019, at the start of the summer session of the Setouchi Triennale 2019. Please enjoy not just the work itself but also the hand-planted area that has been painstakingly created by the island residents in the garden of C-Art House.