A commemorative ceremony and workshop with local residents was held to celebrate the unveiling of a new work at Inujima "Art House Project" A-Art House.
To celebrate the completion of Yellow Flower Dream by Beatriz Milhazes, a major Brazilian artist, an unveiling ceremony and workshop with local residents was held at Inujima "Art House Project" A-Art House on October 31st, 2018, the day before the work's public opening.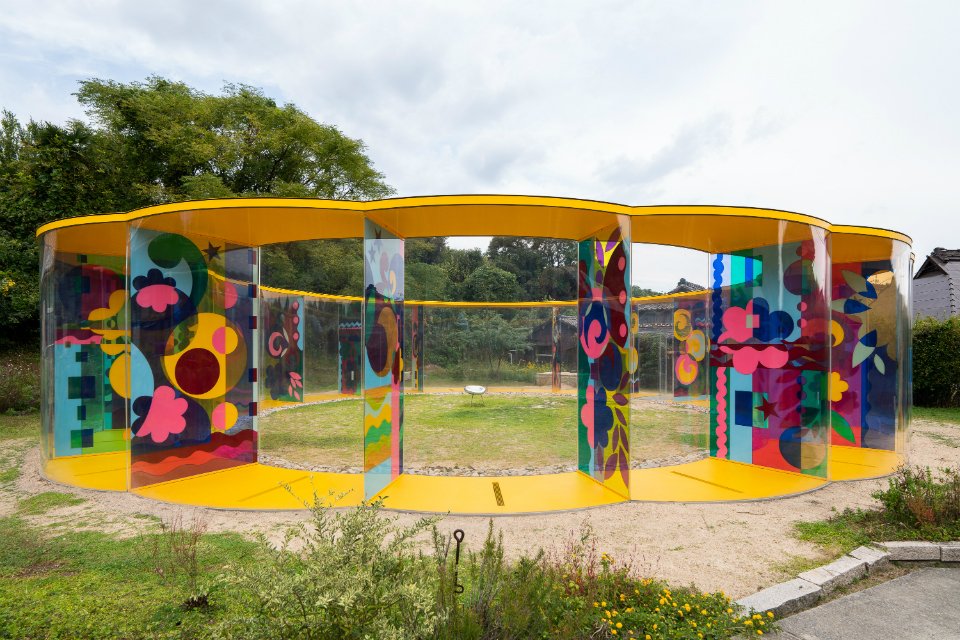 "I hope this work will become part of the daily life of everyone on Inujima."
Exhibited in the circular architectural space of A-Art House, Yellow Flower Dream is a work that bursts with vivid colors. It features a series of 17 glass plates, each adorned with adhesive vinyl in varying patterns. "What lovely colors!" "The colors stand out beautifully against the yellow bottom." These were among the comments that the islanders, witnessing the work for the first time, made as they looked into the gallery. The new work seemed to stir the islanders' imaginations. Pointing at the impressive patterns from a distance, they made comments like "Is that a wave, I wonder?", and "That must be a swallowtail butterfly!"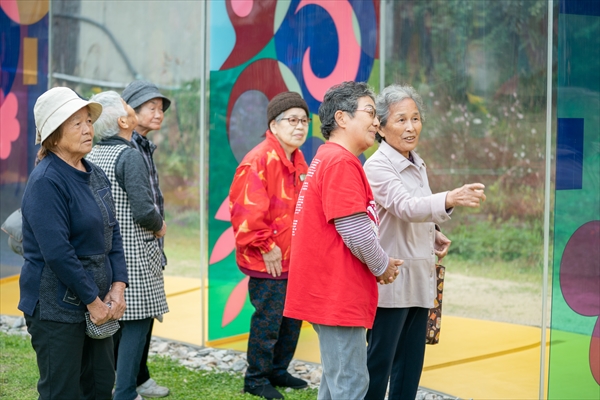 "I am very happy to have been able to produce this work and be part of this project in Inujima," Ms. Milhazes said, addressing the 18 local residents who had gathered at A-Art House. She showed the audience a portfolio of her works while discussing her artistic activities.

"I have worked as an artist for over 35 years, starting in the 1980s. I am originally a painter, and painting is still my principal medium. Since the late 90's, I started experiencing with other mediums as well, in dialogue with painting and expanding possibilities of expression. My work is inspired by the culture of Brazil, for example its rich nature, baroque architecture, pop culture and folk traditions. I take my inspiration from these things and express them through the colors, contrasts and geometry in my work."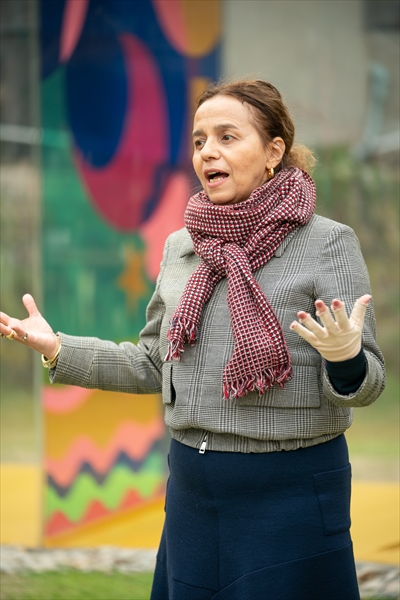 Ms. Milhazes first visited Inujima in November 2017 to create an artwork for display at A-Art House. She recalls that, although she had seen photographs, her impression of A-Art House and Inujima totally changed when she actually set foot on the island.

"Two things immediately grabbed my attention here. The first was that A-Art House is a kind of house with art around it, where the inhabitants live outside of the house. The second was that it is a kind of sculpture; the design of the house, with its flower shape, is in itself a piece of art. As I came to learn more about Inujima, I began to feel that this architecture symbolizes what Benesse Art Site Naoshima is trying to do on Inujima. Art comes to the people and becomes part of people's lives, because there is a community living here. I think this is really special, and I hope my work, too, can become a part of the daily life of everyone on Inujima."
"I incorporated the delicate colors that are so distinctive of Japan into my work."
Ms. Milhazes was born in Rio de Janeiro, Brazil, and still bases her artistic activities there. Rio de Janeiro is one of Brazil's largest cities, while Inujima is a small island in the Seto Inland Sea. As such, they have very different climates, cultures, and histories, but Milhazes said that she felt a surprisingly deep connection between the two.

"Rio de Janeiro is rich with nature, my studio is close to the botanical garden and the ocean is nearby. Some of the things we have there I have met again here in a different cultural and geographical context, so I wanted to create a dialogue between these two cultures in my work for A-Art House. Since the city of Rio de Janeiro is in a tropical environment, it is surrounded with the vivid colors of plants. I have at times taken inspiration for the composition of my works from the colors of these tropical plants. The nature and flowers on Inujima, on the other hand, are quite delicate and small, so for this work, I observed the detail and possibilities of colors here and tried to use them as a departure point for my color composition.."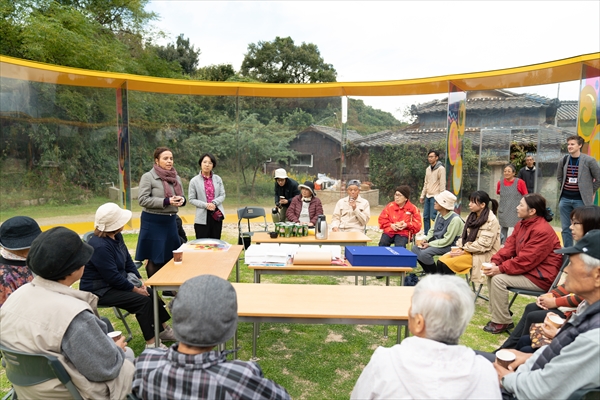 Yellow Flower Dream is made of 17 glass plates, each adorned with different pictures. The expression of the work varies depending on your vantage point, the season, and the light. For that reason, you can make new discoveries by visiting it at different times and seasons.

"The appearance of this work varies not only depending on changes in daylight, but also depending on how the different drawings overlap. I would love it if you could come to A-Art House and experience my work at different moments, see how the drawings interact and experience how daylight will shine through them. My work is a kind of 'imaginary landscape'. And through it one can see the actual scenery of Inujima. I hope my work will stimulate the imagination of people who look at it."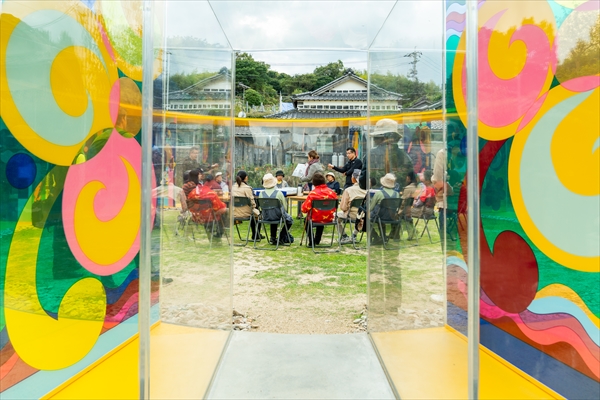 A workshop brought the islanders closer to the work
After the artist had introduced her work, the workshop with local residents began. Ms. Milhazes herself came up with the idea for the workshop. In it, the islanders each made a collage on a B4 size plastic sheet using the remaining pieces from the transparent adhesive vinyl actually used for Yellow Flower Dream. The vinyl patterns were in the same shapes as those used in the artwork, cut down to a smaller scale. Each islander arranged the different colors and shape motifs onto their plastic sheet however they liked.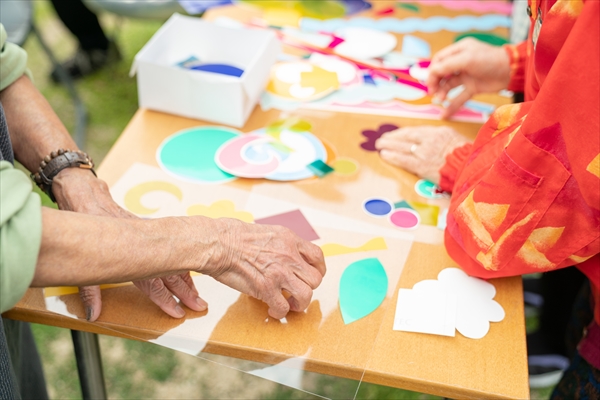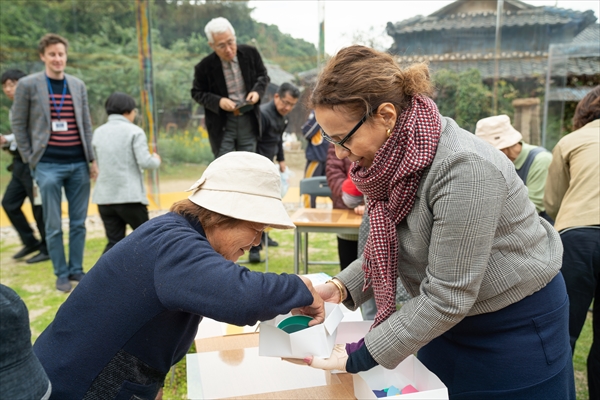 The islanders enjoyed creating their own personal collages. "What were you trying to depict with this?," one islander asked, comparing collages. "I wasn't trying to depict anything." Another asked about color use: "Would this color be a better match here?" One islander joked: "The air has made this color sheet all wrinkly. Just like my face." Ms. Milhazes helped the islanders with a warm smile on her face.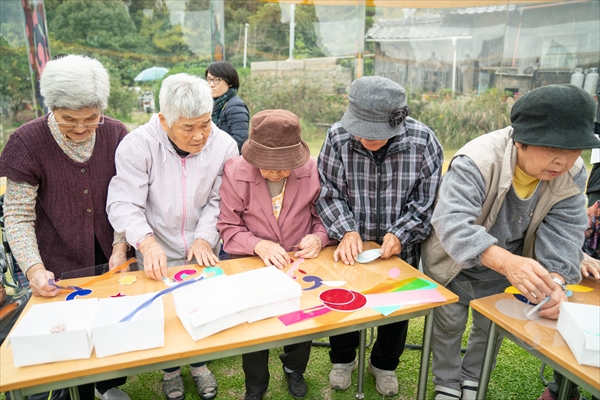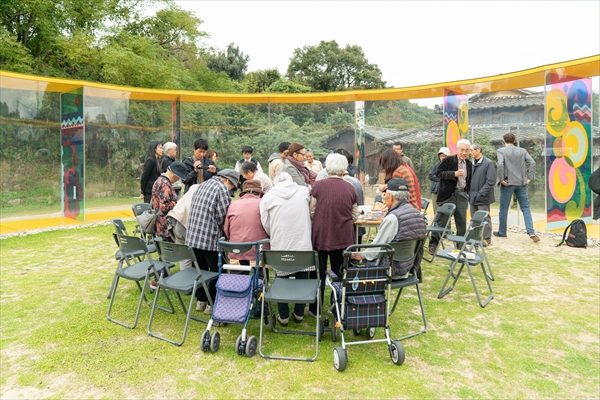 When the workshop finished, each islander took a commemorative photo with Ms. Milhazes while holding their collage. Some islanders timidly showed her their collages, while others made boastful comments like "I used this one because the color was lovely. What do you think?" In response, Ms. Milhazes politely shared her impressions with each islander: "The color balance is nice, isn't it?" "The overlapping colors are lovely." More than a few islanders went to gaze upon Yellow Flower Dream again after the workshop came to and end, perhaps having gained new perspectives by creating their own collage. This friendly workshop seemed to bring the islanders closer to the work and to the artist. The 18 collages the islanders made will be displayed for a month at the Inujima Ticket Center Cafe, and then returned to them.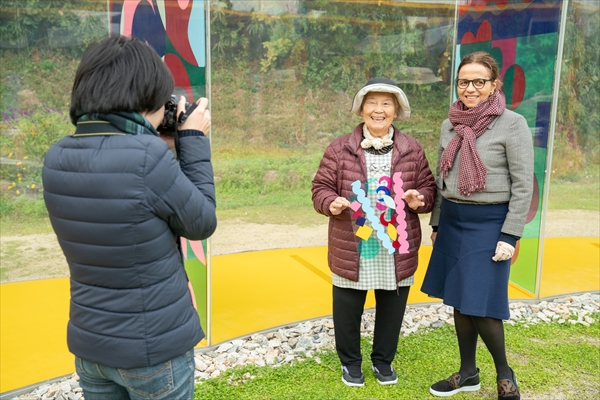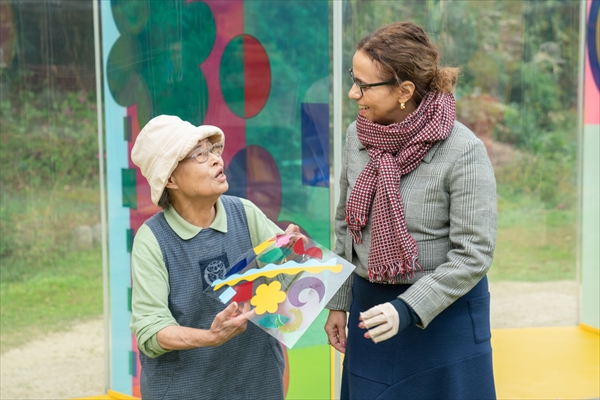 Using colors brimming with energy, the imaginary landscape of Yellow Flower Dream represents the geometric forms found in Inujima's nature and the vitality of the people who live here. If you visit Inujima, please stop by the Inujima "Art House Project" A-Art House. We hope you will enjoy the experience that, like the artist says, changes with time and the passing seasons.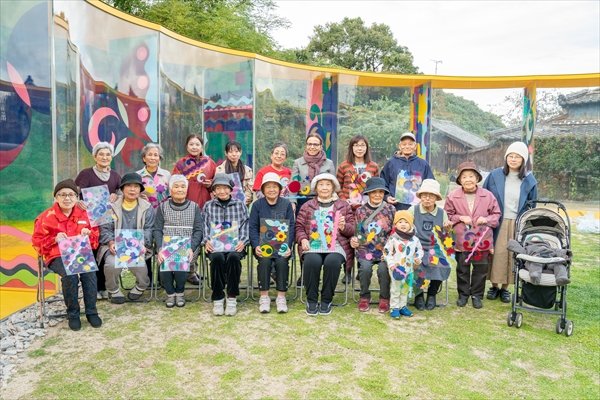 Photo: Yoshikazu Inoue