Yayoi Kusama: "Art is an Endless Struggle, Art is Love, Art is Life" (#2)
The Life of Contemporary Artists by Akiko Miki
Yayoi Kusama
Toward Worldwide Success
1989 was not only the beginning of the Heisei era in Japan but also marked worldwide and social revolutions such as the Tiananmen Square Protest and Massacre and the Fall of the Berlin Wall, which signaled the end of the Cold War.

In the art scene, the Pompidou Center in Paris presented an exhibition that year, "Magiciens de la Terre" curated by Jean-Hubert Martin, following the 1984 exhibition "Primitivism in the 20th Century Art: Affinity of the Tribal and the Modern" curated by William Rubin at the Museum of Modern Art, New York. "Magiciens de la Terre" was controversial at first, since masks and other folk-art objects were exhibited along with the works of contemporary artists from Africa and Asia, but they had an impact on artistic movements later on, bringing areas other than the West to the attention of the art world.

Given the contexts of globalism, multi-culturalism, and post-modernism that followed, areas and artists that had been marginalized garnered much attention and Japanese contemporary artists who had been overlooked gradually emerged in the international art scene.

It was biennial/triennial international art exhibitions launched or reorganized in places such as Brisbane, Australia and Taipei during the 1990s that provided Japanese artists with new venues. These events became opportunities for Kusama, too, to experiment with gigantic outdoor sculptures and inflatable sculptures.

Kusama's international reputation is said to have been decisively established around the time when her retrospective exhibition "Love Forever: YAYOI KUSAMA 1958-1968" was held at the Los Angeles County Museum of Art in 1998, which then traveled to the Museum of Modern Art, New York and other institutions.

While these exhibitions were held in the United States and Japan where Kusama was raised, a solo exhibition that mainly showed immersive installation works traveled around Europe in 2000 from Le Consortium, Dijon, France and Maison de la Culture du Japon, Paris, to Denmark, Vienna, and other places. In my view, this immersive exhibition led to a wider reception of Kusama in Europe. As I lived in Paris back then, I saw that her audience had changed to include not only people within the art world but also ordinary children and adults who were excited by her works.

Since then, Kusama's success accelerated as numbers of solo exhibitions across Japan, retrospective exhibitions in London and New York, and shows at major museums in Central and South America, and Asian countries were held one after another, with record-breaking attendance numbers. This trend is still underway in spite of the Covid-19 pandemic, as exhibitions were held and were similarly wildly popular in such places as the New York Botanical Garden, New York, Gropius Bau, Berlin, and Tel Aviv Museum of Art, Tel Aviv, from 2021 to 2022.

As for the new kinds of works she began to create from the start of the 21st century, there are figure sculptures of girls exhibited in the "Kusamatrix" exhibition in 2004 that seem to suggest her hope for happiness for the first time, unlike her previous works that represented her mental sceneries. She also created a series of fifty paintings titled "Love Forever" from 2004 to 2009 followed by another painting series regarded as the culmination of her career, "My Eternal Soul."

The bright colors and sense of euphoria characteristic of these recent series unseen in her previous works directly reflect her desire "to show how wonderful peace and love are with the power of art and the power of love"*4 and how her long-lasting artistic activities embody her life itself.

*4. Yayoi Kusama, quoted from the interview and text by Yayoi Kojima, VOGUE JAPAN, February 21, 2017.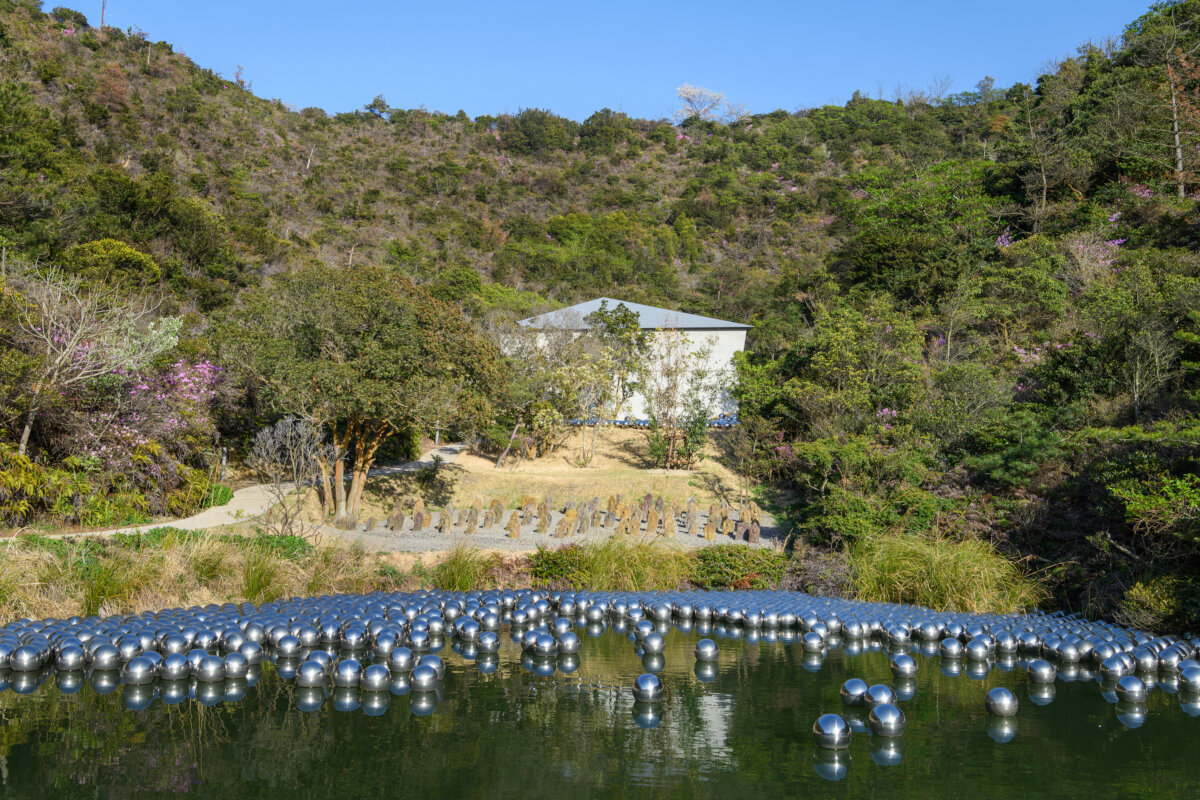 Proliferation and Self-obliteration of "Me" in the Great Nature
In 2022, Benesse House celebrated its 30th anniversary. On this occasion, Valley Gallery, a new exhibition space designed by Tadao Ando was created on Naoshima, where another important work of Kusama was installed.

Consisting of a semi-outdoor structure built to fit in the form of the valley that is often compared with a boundary or sanctuary and the nature around it, this gallery was created with an aim to provide visitors with experiences of both the works of art and the entire landscape of the area to encourage contemplation upon the bounty of nature, symbiosis, primordial prayerfulness, circulation, and regeneration. As Ando describes, "I intended to create a space that has the strength of crystal even though it is small," the gallery is likened to a small shrine that is both introspective and open to the outdoors due to slits and notches on the roof so that visitors directly feel the dynamism of natural energies such as light and winds.

Narcissus Garden installed both inside and outside the gallery is a work Kusama exhibited at the 1966 Venice Biennale covering the grass yard of the Giardini with an enormous number of mirror balls, bringing her worldwide attention. She was not the representative of Japan at the time but directly negotiated with the Biennale's organizers to be able to occupy the site, and Lucio Fontana covered the costs*5 of the 1,500 plastic mirror balls manufactured by a factory in Florence. She placed them on the grass outside the Italian pavilion and then lay among the balls dressed in a red leotard. She even tried to sell the mirror balls for $1.50 each but Italian authorities immediately stopped this, and it is said that most of the balls were stolen.*6

While Kusama attracted attention from the media not only through her guerrilla tactics as such, but also with her anti-commercialist attitude, the current version of the work consists of 1,700 stainless-steel mirror balls slightly larger than before that do not contend with nature, but instead move quietly and capture the reflections of the viewers and the change of the nature of the valley. In viewing the work, one can feel as though being unified with nature as a life form and expanding infinitely.

As "every life will reincarnate through polka dots after all,"*7 "I" will disappear after continuous proliferation in the great nature and be freed from the boundary of "self" at some point.

Kusama turned 93 years old in the spring of 2022, a year older than the age she had once mentioned in an interview she was going to work until.*8 I wonder what she is now thinking about, at a time when human beings are facing again the fears of division and warfare, and fighting against pandemics, as if we are repeating our history.

When I visit Narcissus Garden surrounded by azalea flowers in full bloom, I cannot help but envisage the lone artist who prayed for salvation and the preciousness of life, relentlessly striving with all of her might to represent the beauty of peace and human love through the power of art amidst this chaotic world.

*5. Yayoi Kusama, "Kusama Yayoi Interview: Kusama ga Kusama dearu tame ni," Bijutsu Techo, June 1993, p16.
*6. Tanigawa, ibid., p.66.
*7. Yayoi Kusama, "Kusama Yayoi Interview" (interviewed by Tamaki Saito), Bijutsu Techo, March 2003, p.35.
*8. Kusama, Bijutsu Techo, June 1993, p.19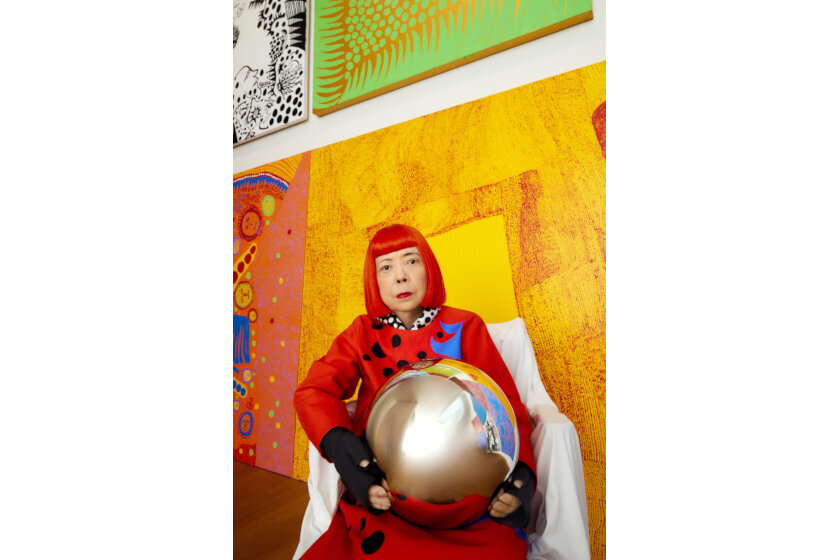 Akiko MikiCurator, Benesse Art Site Naoshima International Artistic Director
---
Former Chief and Senior curator, Palais de Tokyo (2000-2014), Co-director, Yokohama Triennale 2017 and Artistic Director of its 2011 edition among others. She was also guest curator for many large-scaled exhibitions of Japanese artists including Nobuyoshi Araki, Hiroshi Sugimoto, Takashi Murakami at major museums in Asia and Europe as Barbican Art Gallery, Taipei Fine Art Museum, National Museum of Contemporary Art, Seoul, Mori Art Museum, Yokohama Museum of Art, and Kyoto City KYOCERA Museum of Art.