About Sputniko!'s Teshima 8 Million Lab
March 20 marks the start of the spring term of the Setouchi Triennale 2016, and with it the opening of Sputniko!'s Teshima 8 Million Lab, a new permanent facility on the island of Teshima.
The artist Sputniko!, who is also an assistant professor at the MIT (Massachusetts Institute of Technology) Media Lab, creates works that directly confront issues faced by contemporary society. Recently, terms such as iPS cells and genome editing are often heard of, and since joining MIT Sputniko! could also observe rapid developments in biotechnology. This led her to feel that new creatures and phenomena that were once limited to a mythological realm are increasingly becoming a reality. It now seems as if science, which was historically suspicious of mythology, will help create myths in the future.
On the other hand, Sputniko! argues that Japanese culture, which worships manifold deities (litteraly 8 million in the Shinto religion according to the Japanese phrasing) and believes that gods dwell in all things, approaches these scientific developments that give rise to mythological realms differently from Western philosophy, which is founded on monotheistic values. With the idea of creating a new mythology as her starting point, the artist conceived the Teshima 8 Million Lab to present a world that might be manifested by science and technology in the form of art and raise questions about our future.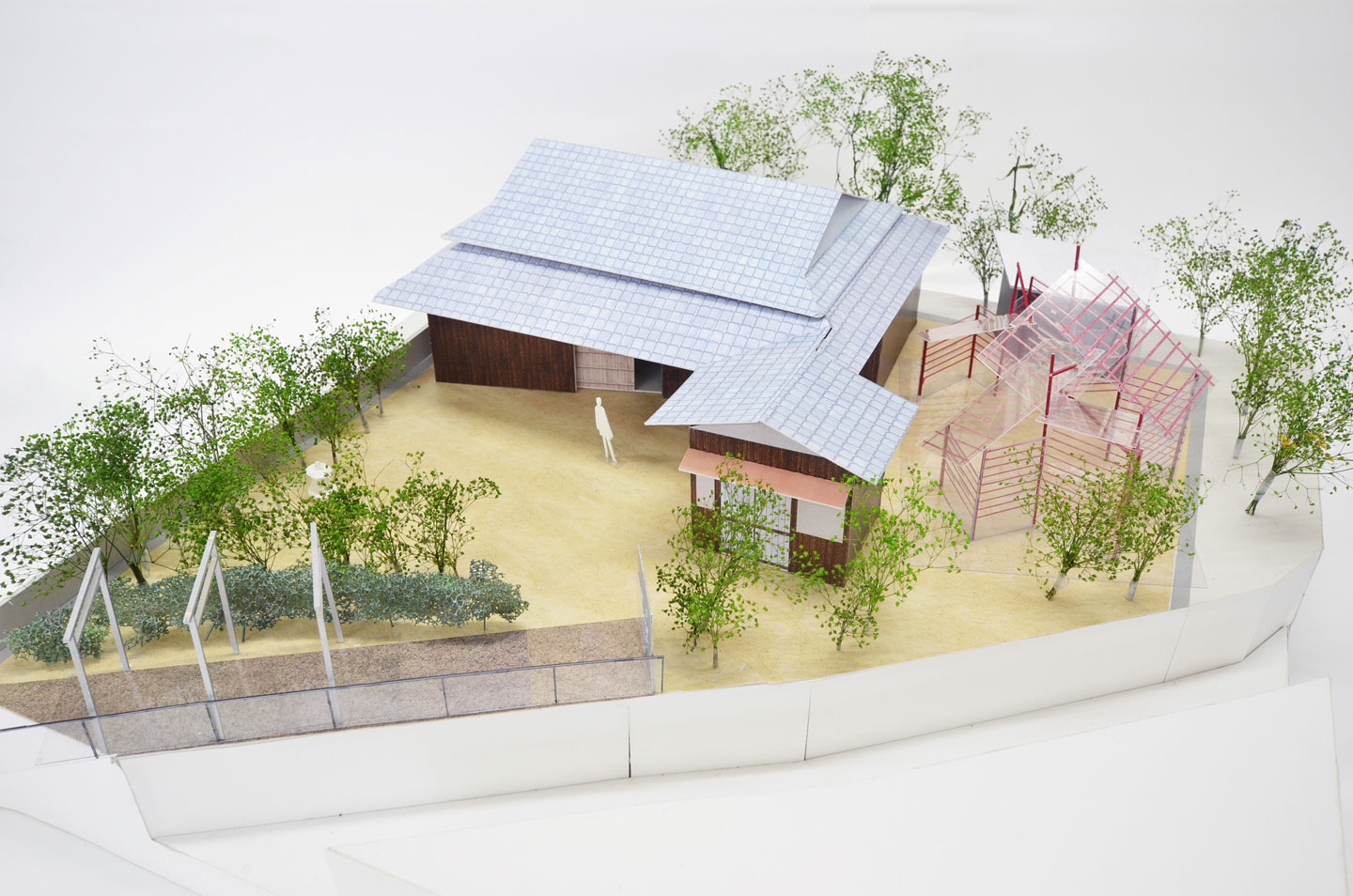 Different artworks based on this concept will be shown at the facility over time, but first Sputniko!'s new artwork will be presented as the inaugural exhibition. The title of her work is Red Silk of Fate - Tamaki's Crush. The installation centers on a video work in which the protagonist, an awkward scientist who finds it impossible to express her feelings for the person she loves, creates a "red silk of fate" using genetically modified silkworms that she has been researching.
The work is set to be completed in time for the opening on March 20. The video was shot in January in the snow-covered suburbs of Tokyo. On Twitter Sputniko! invited countless extras to take part in the climactic scene, and despite the cold weather, some 100 people assembled on the site. Three people from Teshima were also invited to appear in the video. Why are all of these people running together? Don't miss the finished work to find out.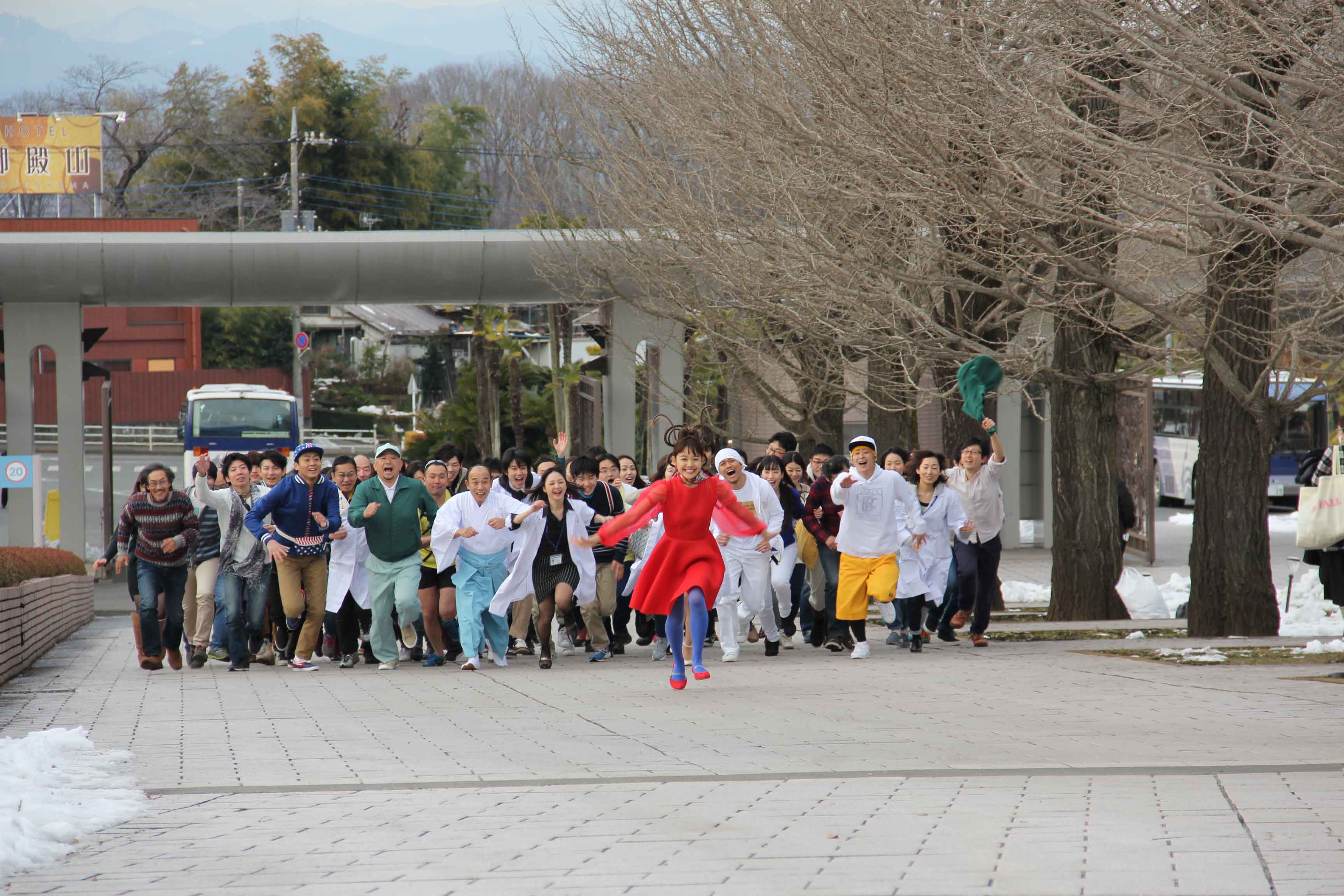 Some encouraging news also emerged from the National Institute of Agrobiological Sciences (NIAS), where Sputniko! was simultaneously involved in a joint research project. Actual "red silk of fate" was successfully produced by silkworms that had been infused with oxytocin (a hormone said to make people fall in love) and genes from a red glowing coral. In that sense, you might say that the artist's fantasies and cutting-edge biotechnology merged to realize a kind of mythological realm.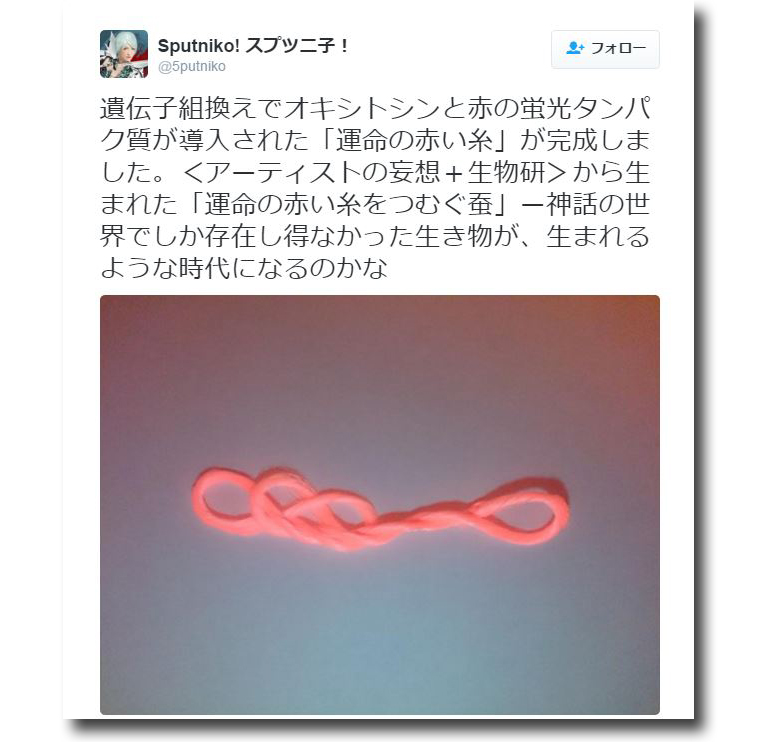 Using a readily understandable and Pop-like discourse, Sputniko! expresses ideas related to a variety of complex contemporary problems. At the heart of her work lie serious doubts about a society in which things are decided without being sufficiently debated, as part of capitalist and political processes.
The Teshima 8 Million Lab is located in a small village on an island blessed with a rich natural environment. As an embodiment of Sputniko!'s ideas, it promises to continually pose questions about how we might design a future able to cope with our rapidly changing society.