A lecture by art historian Philippe Piguet,
great-grandson of Claude Monet
The French art historian Philippe Piguet gave a talk at Benesse House, Naoshima.
Mr. Piguet is an art historian specializing in the period from the mid-19th century to today, with a particular focus on the work of the renowned Impressionist painter Claude Monet and the development of contemporary art since 1960. He is also Monet's great-grandson, and recalls spending childhood holidays at Giverny near Paris, France, where his great-grandfather lived. He later found a large volume of letters and photographs relating to Monet at his grandmother's home, and developed an interest in his illustrious forebear. Mr. Piguet later inherited these materials, and embarked on his current career as an art historian.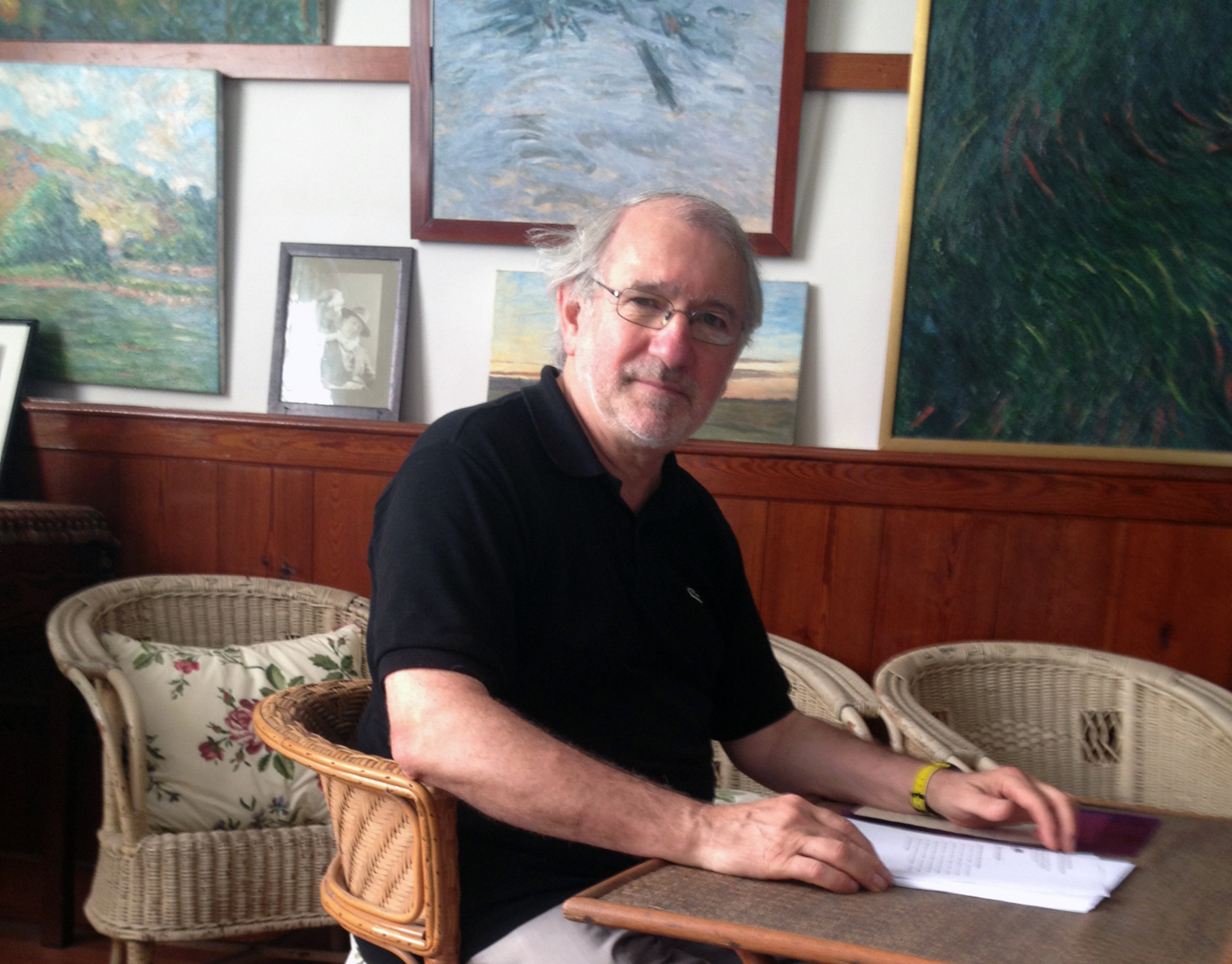 Mr. Piguet first came to Naoshima in 2010 and visited the Chichu Art Museum, having heard that five of Monet's late masterpieces were on view at this museum on a small Japanese island. He relates that he was "profoundly impressed by the way Monet's Water Lilies were exhibited in the same space and on an equal footing with works by contemporary American artists," and now, he has donated to the museum a photograph from his own collection with tremendous historical value. This is the photograph: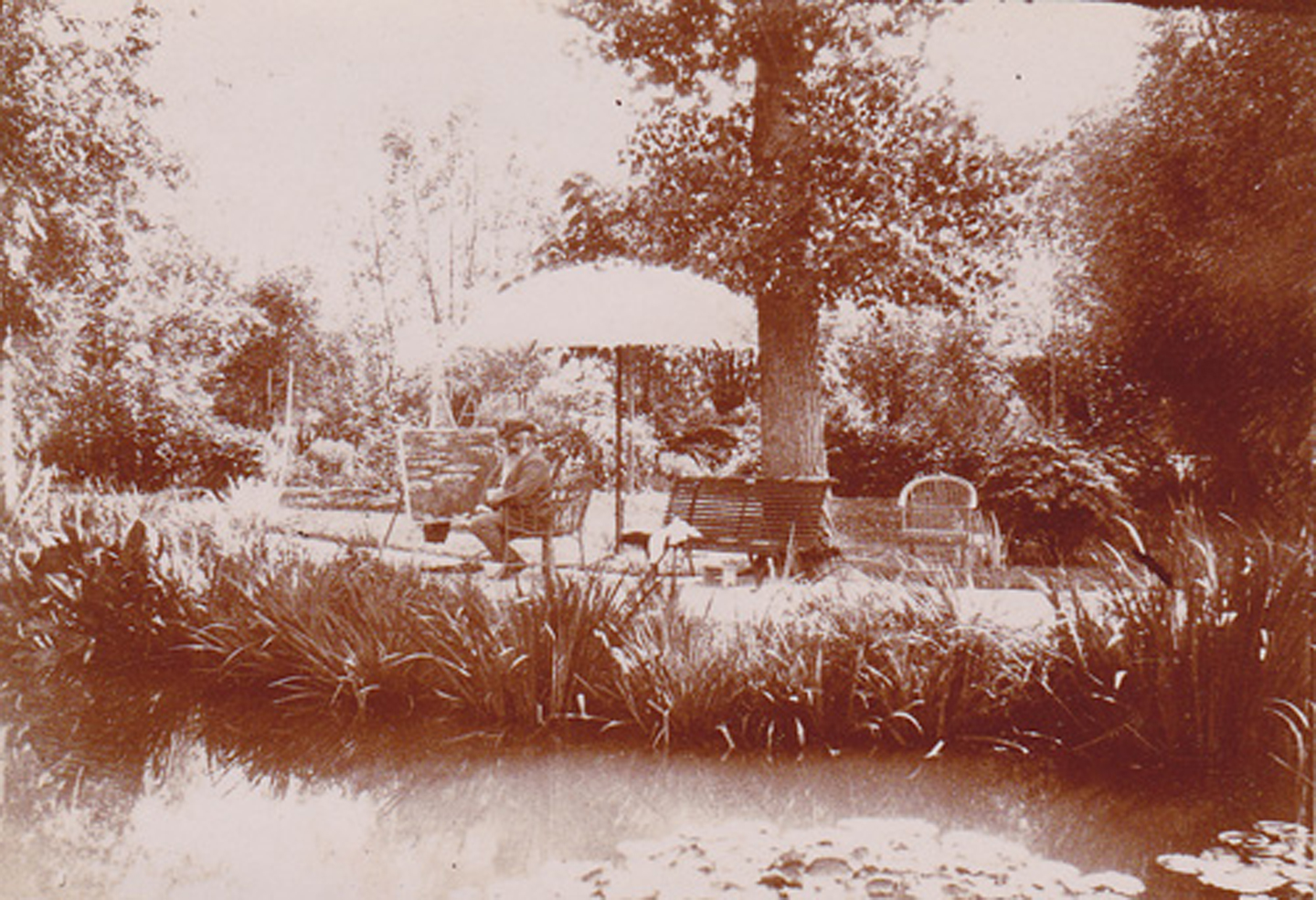 The photograph shows Monet in his garden at Giverny in the summer of 1904, hard at work on one of his Water Lilies paintings. Mr. Piguet says he hopes this photograph will prompt people who work at or visit the museum to "see Monet in a new light."
The lecture was entitled "Claude Monet prospectif: Les Nymphéas, une oeuvre in situ" (Claude Monet's vision: Water Lilies as a site-specific work), and discussed Monet as as pioneer of site-specific art and contemporary painting, accompanied by photographs and films of enormous interest and value collected by Mr. Piguet. Here are a few excerpts from his talk.
What led up to Water Lilies and its development as a series
It was in the spring of 1883 that Monet moved to Giverny. Still relatively unknown, he chose to withdraw far from both the city and the Impressionist movement, having discovered a perfect place to reestablish himself--one full of flowers, fields, and water, and bathed in beautiful natural light. Here he designed and planted his own ideal garden, and after much adversity, built a studio and created a pond in his garden. Monet began painting the scenes before his eyes, and this was the dawn of the Water Lilies series.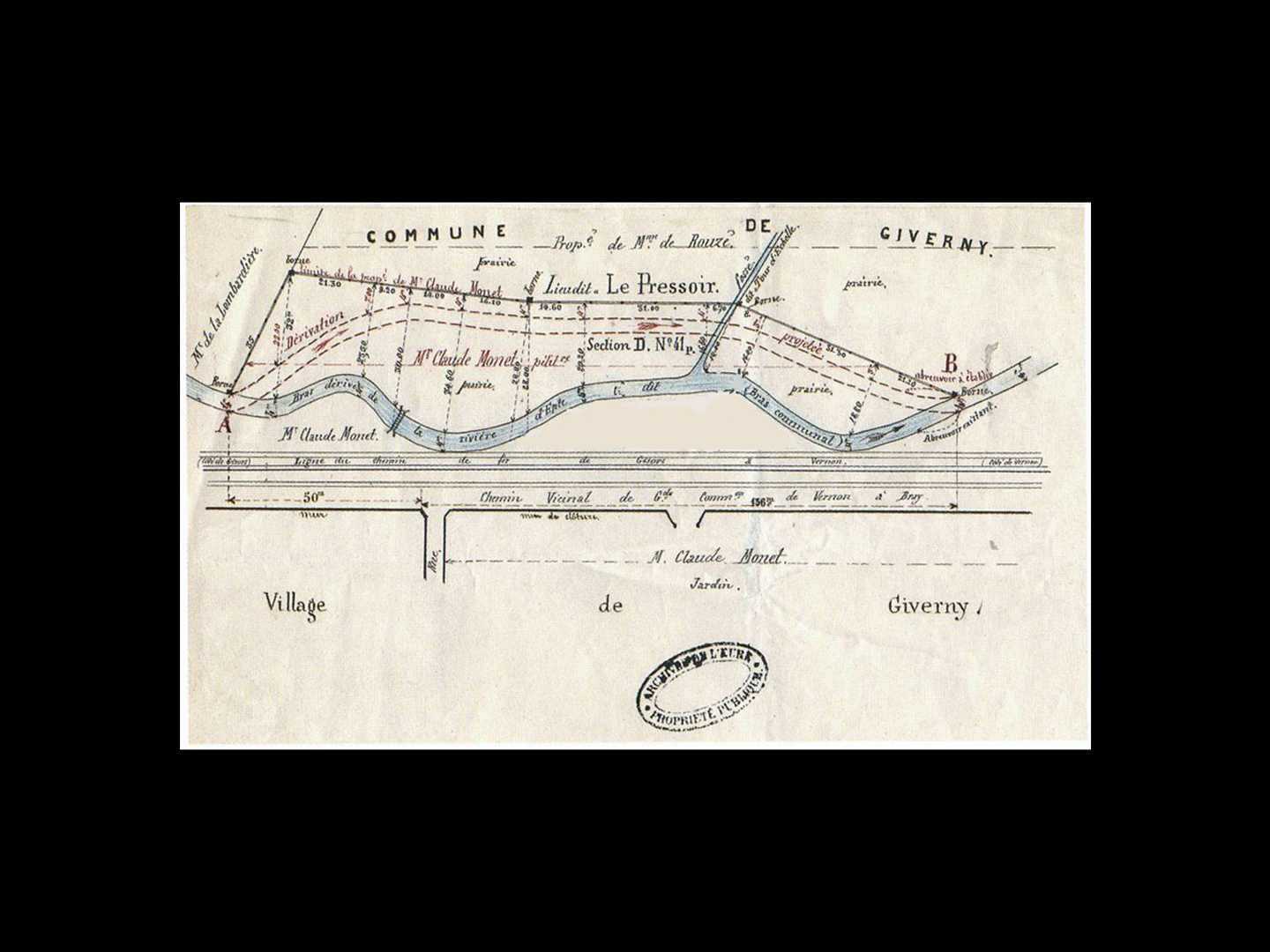 Having advanced a model of art as seamlessly integrated with nature, and of nature as subject matter for art, Monet began producing a series of paintings characterized by more or less monochromatic gradations. By addressing, within the context of this series, the continuous flow of time and space, Monet came to focus on the themes of air and water, which can justly be called his very identity as an artist, and eventually arrived at the concept of his major immersive paintings that surround the viewer completely.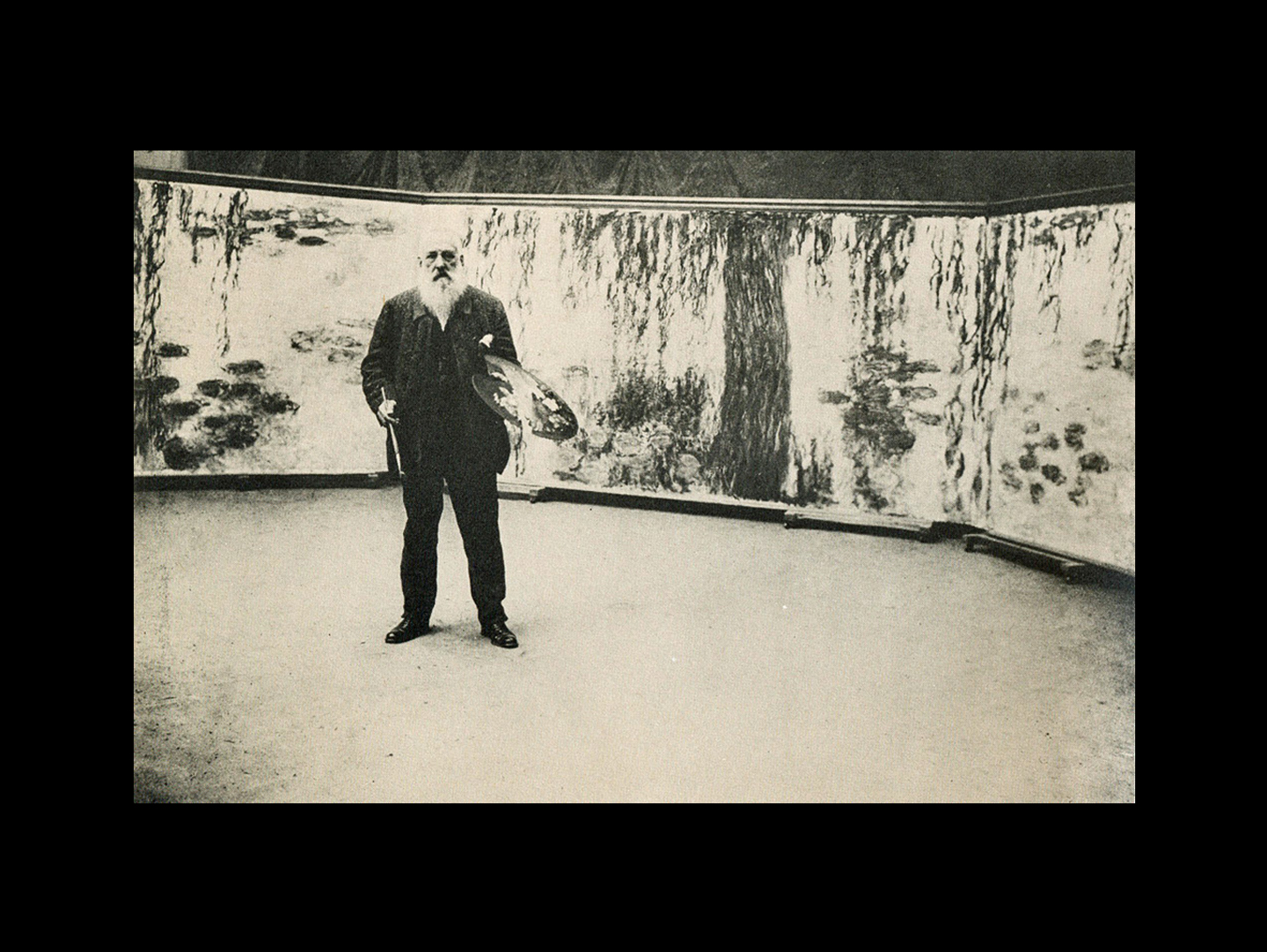 Monet as a forerunner of contemporary art
The immersive masterworks in the Water Lilies series are an attempt to use the medium of painting to enclose space itself. Here Monet was not seeking to capture instantaneous impressions of the world as in his Impressionist days. He was instead inviting the viewer to enter a painting entirely, and inside its space, to experience the vastness and marvelousness of the world.
These Water Lilies paintings enfold the viewer the instant he or she enters the room, as exemplified by the oval gallery at the Musée de l'Orangerie. Monet intentionally mixed clouds with sunlight, and the curves of willows with the rippling swells of aquatic plants, so that they fill the space and emerge toward the viewer from all sides.
Although the surface of water is in reality a horizontal plane, in Water Lilies it has become a vertical one. The things depicted in the paintings act reciprocally on one another, creating a visual order which succeeds in maintaining a singular balance. Conventional physics is turned on its head, in a manner that the Abstract Expressionist painter Jackson Pollock thoroughly understood and applied in his paintings of the 1940s and 1950s. Other giants of 20th-century art such as Matisse, as well as Kandinsky, Rothko, and a diverse canon of other artists worked in the context of this legacy. In terms of dealing with light, James Turrell could perhaps be called one of them.

Monet's message with regard to war
The Water Lilies series consists neither of commissioned works nor of public art, but rather of paintings through which Monet explored his own inner life, and which embodied his own life's work.
However, it was just when World War I was raging most fiercely that he embarked upon the grand, immersive Water Lilies paintings. His enthusiastic devotion to the creative act of producing these paintings constituted a contrast with the horror and destruction of war, and can be seen as the artist's own way of protesting. Little has been said of the role Monet played in society, but this role was to make a bold challenge to the idiocy of humanity. After the war ended with the Armistice of 1918, Monet presented 19 paintings as a gift to the nation of France, which went on to be exhibited at the Musée de l'Orangerie. The paintings of Monet no doubt provided great solace to traumatized Europeans in the chaotic aftermath of the war.
Conclusion
After moving to Giverny Monet continued to paint Water Lilies, in the garden he had designed himself, for 27 years. Of these paintings Monet said, "They don't owe anything to anything else than the collaboration of loneliness and silence, to a fervent, exclusive attention that borders on hypnosis." Even after his eyes began developing cataracts in the early 1910s, he continued painting them through sheer force of will right up until his death at the age of 86.
At the close of his talk, Mr. Piguet screened for the audience a most marvelous film from 1915 showing Claude Monet at work. On the screen, sitting at the edge of a pond and puffing away at a cigar while vigorously painting Water Lilies, the artist was alive, present, and with us.
Five of Monet's Water Lilies from his final years are on view at the Chichu Art Museum, in a seamless white space with no corners, illuminated solely by natural light. The entire gallery is conceived as a single, integrated work of art that completely absorbs the viewer into it, as Monet envisioned the gallery at the Musée de l'Orangerie. When Mr. Piguet first visited the Chichu Art Museum's Monet gallery, he says he felt that "the spirit of the room and the five paintings resonate with one another. There is a sense of infinite possibility." Just as the Water Lilies at the Musée de l'Orangerie are intended both to calm and heal visitors and to act as an antithesis to war, the Water Lilies on Naoshima could perhaps be called an antithesis to the many ills of contemporary society.
We hope you will visit Naoshima and receive this message, which can only be delivered in person at the Chichu Art Museum.