Notice: Newly Exhibited Works of David Hockney
August 22, 2023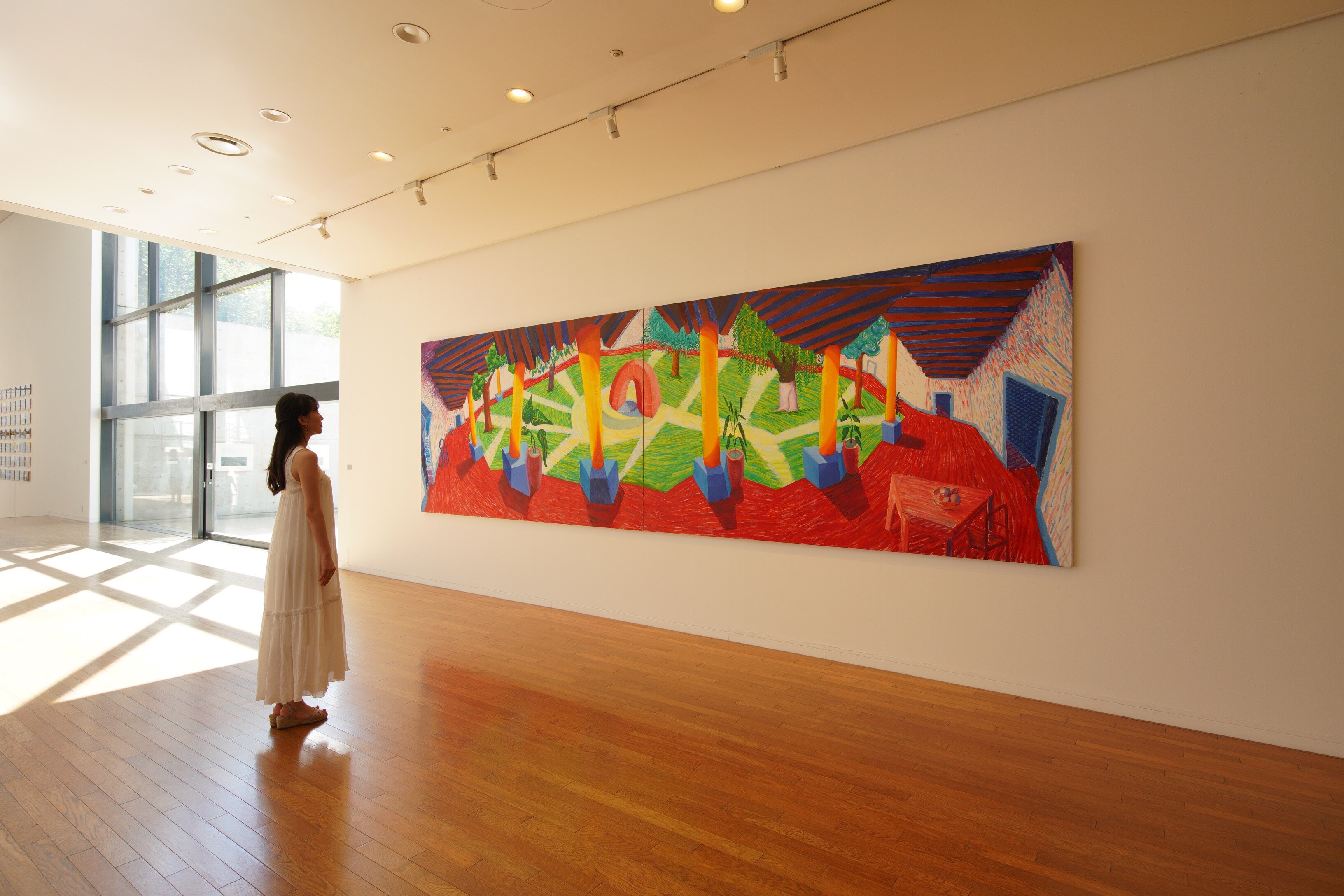 Benesse House Museum has exhibited four new works by David Hockney since August 22, 2023. In addition to the 183 x 610 cm oil painting A Walk Around the Hotel Courtyard Acatlan (1985), the centerpiece of the series "Hotel Acatlan," which was already on the view of Benesse House Museum, four other works by David Hockney, including lithographs, will be on view for a limited period.

Pool with Reflection of Trees & Sky (1978) is one of a series of works Hockney started to create in 1964, using various techniques to depict the pool's surface as it changes with the light.

The three lithographs of "Hotel Acatlan" were inspired by the courtyard of the hotel where the artist stayed after his car broke down on the way to an exhibition in Mexico in 1984. The work allows visitors to see the gradual change of perspectives.

We hope that visitors will experience the light depicted by the artist and the expanse of space that comes from the experience of seeing by placing themselves in nature and viewing the works, and that they will be inspired to think about "Benesse (well-being)."
≪New Exhibit≫
Artist: David Hockney (b. 1937, England)
Works:
-Pool with Reflection of Trees & Sky, 1978, 185 x 218 cm, Colored and pressed paper pulp
-Hotel Acatlan: First Day, 1985, 73 x 187 cm, Lithograph
-Hotel Acatlan: Second Day, 1985, 73.4 x 189 cm, Lithograph
-Hotel Acatlan: Two Weeks Later, 1985, 72.7 × 192.2 cm, Lithograph
Benesse House Museum
Opening hours: 8:00 a.m. - 9:00 p.m. (last admission at 8:00 p.m.), open year-round (with maintenance closures)
Admission: 1,300 yen (admission free for those 15 years old or younger and guests of Benesse House)
Address: Kodanchi, Naoshima, Kagawa-gun, Kagawa Prefecture, 761-3110
Tel: 087-892-3223 (9:00 a.m. - 6:00 p.m.)