Announcement of the reopening for Cultural Melting Bath: Project for Naoshima in April 2020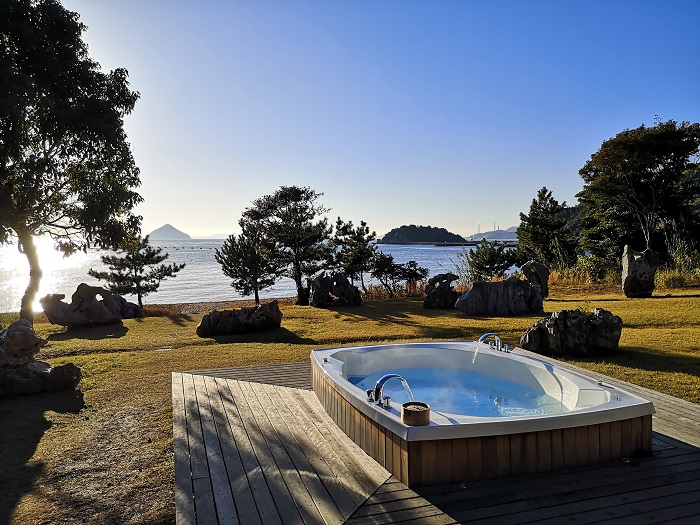 From April 2020, Benesse House Museum will reopen one of its outdoor works, "Cultural Melting Bath: Project for Naoshima," under the new concept of a "bath experience program."
Based on the concept of bringing people from different races and cultures together, this work was constructed in 1998 on Naoshima's coast, which has strong energy according to the principles of Feng-Shui. It was installed in an excellent location from which visitors can enjoy stunning views of the Seto Inland islands and the Seto-Ohashi Bridge, with the high mountains of Kyonoyama in the background and the boundless Seto Inland Sea in the foreground. The Taiko stones sourced from China restore one's vital balance and the jacuzzi bath, which can be infused with Chinese herbal medicine, symbolize the coming together of Eastern and Western cultures as well as the timeless intersection of traditional and modern elements.
At the same time, the changing room showcases the dragon-vein drawings of Cai Guo-Qiang, photographic records taken during production, and Chinese herbal medicinal samples which have been exhibited to enable guests to attain a deeper appreciation of the work.
This work was exhibited to bring people from different cultures to Naoshima and facilitate interactions between them. After more than 20 years, it will become a site that allows guests to gaze at the natural surroundings while relaxing in the bath enjoying deeper moments of introspection.
This program allows up to one group of guests staying at Benesse House to indulge in an exclusive private bath experience every Sunday in which they can soak in a Chinese herbal medicinal bath and enjoy a relaxing and reflective moment.

【Measures in response to the novel coronavirus outbreak】
・The bathtub and the changing room are routinely cleaned thoroughly d with alcohol and ventilated.
・This outdoor activity is only available for private groups of up to six people.
More details are here
Inquiries Benesse House