New artwork unveiled at Inujima "Art House Project"
A-Art House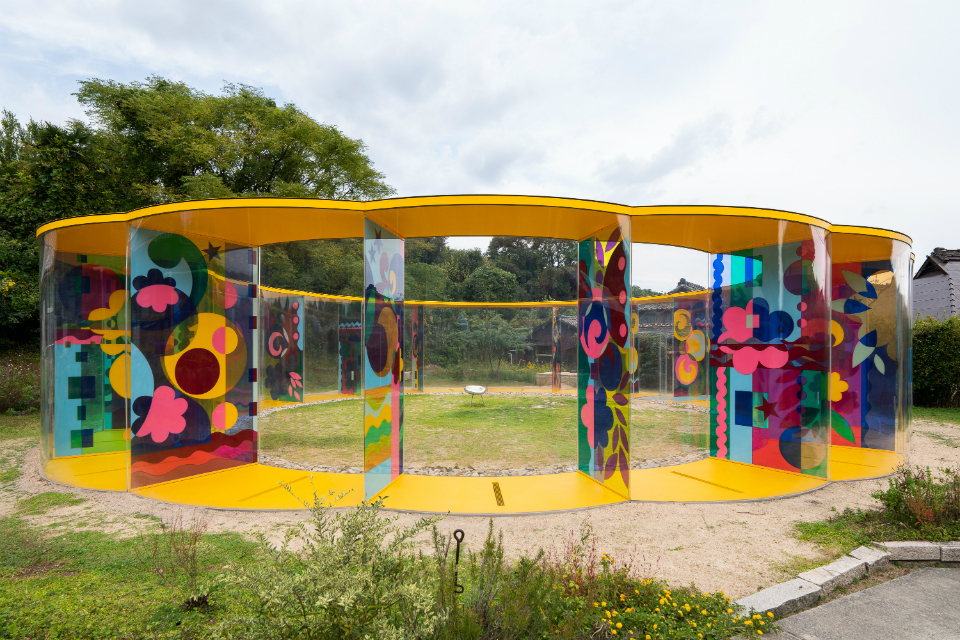 Photo: Yoshikazu Inoue
Yellow Flower Dream, a work by Beatriz Milhazes has opened to the public at Inujima "Art House Project" A-Art House on November 1, 2018.

Based on the artist's perception of the architecture of A-Art House as a "sculpture uniting the surrounding community and nature", this work represents, through the use of colors overflowing with energy, a virtual landscape depicting the vitality of the geometry and daily life unfolding in Inujima's nature. While conjuring up a new rhythm, the work also stirs the imagination of the viewer.
Inujima "Art House Project" A-Art House
Beatriz Milhazes
Born in 1960 in Rio de Janeiro where she lives and works. Beatriz Milhazes graduated in Social Communication. She studied Arts at the Escola de Artes Visuais do Parque Lage (EAV - School of Visual Arts) from 1980 to 1983, where she also taught Painting until 1996. Milhazes is considered one of the leading Brazilian artists. She consolidated her career in the national and international arts circuit, representing Brazil in the Venice Biennale (2003), participating in the São Paulo Biennial (1998 and 2004) and Shanghai Biennial (2006), and with solo shows in museums and prestigious institutions such as the Pinacoteca do Estado de São Paulo, SP (2008); the Fondation Cartier, Paris (2009); the Fondation Beyeler, Basel (2011); Fundação Calouste Gulbenkian, Lisbon; MALBA, Buenos Aires (2012); Paço Imperial, Rio de Janeiro and Museu Oscar Niemeyer (MON), Curitiba (2013); Pérez Art Museum, Miami (2014/2015). Her work is included in the collections of the Museum of Modern Art (MoMA); the Solomon R. Guggenheim Museum; the Metropolitan Museum of Art, New York; the 21st Century Museum of Contemporary Art, Kanazawa; Museo Reina Sofia, Madrid and Centre Georges Pompidou, Paris.